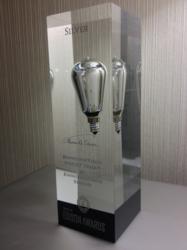 Our judges recognized KnowledgeVision as a true innovator.
Chicago, Illinois (PRWEB) April 26, 2013
The Edison Awards, celebrating 26 years of honoring the best in innovation and excellence in the development of new products and services, announced today that KnowledgeVision Systems was voted a silver award winner winner for innovation. KnowledgeVision CEO Michael Kolowich joined hundreds of senior executives from some of the world's most recognized companies at a Chicago awards event last evening to acknowledge the hard work and commitment of all of the 2013 Edison Award winners.
KnowledgeVision was honored for its innovative viewer tracking features, which allow creators of KnowledgeVision online presentations to understand the level and nature of engagement of each viewer, turning this tracking data into actionable intelligence. This "content telemetry" can trigger follow-up actions based on viewer engagement.
KnowledgeVision's Silver Edison Award came in the "Content Management" category.
Being recognized with an Edison Award has become one of the highest accolades a company can receive in the name of innovation and business. The awards are named after Thomas Alva Edison (1847-1931) whose inventions, new product development methods and innovative achievements literally changed the world, garnered him 1,093 U.S. patents, and made him a household name around the world.
"Our judges recognized KnowledgeVision as a true innovator out of the many products in its category," said Frank Bonafilia, executive director of the Edison Awards.
The ballot of nominees for the Edison Awards™ was judged by a panel of more than 3,000 leading business executives including past award winners, academics and leaders in the fields of product development, design, engineering, science and medical.
"Every member of the KnowledgeVision team contributed to these new tracking capabilities," said Kolowich upon receiving the award. "Content telemetry is a game-changer in online presentations, from e-learning to content marketing. What an honor it is to be recognized alongside such innovation leaders as Boeing, Intuit, 3M, General Motors, and Qualcomm."
Click for a demonstration of the KnowledgeVision Online Presentation System.
About KnowledgeVision® Systems
KnowledgeVision is single-mindedly focused on making online video work harder:
--to make it perform better as a content marketing tool;
--to make it more impactful as a sales tool;
--to make it more engaging as a learning tool; and
--to make it more effective as a corporate communications tool.
Clients all over the world use KnowledgeVision's tools to create, share and track synchronized online video and audio presentations, and make them available from web browsers and mobile devices anytime, anywhere.
KnowledgeVision is a venture-backed company based in Lincoln, Massachusetts.
About the Edison Awards™
The Edison Awards is a program conducted by Edison Universe, a non-profit, 501(c)(3) organization dedicated to fostering future innovators. The Awards have been recognizing and honoring the best in innovations and innovators since 1987. They honor game-changing innovations that are at the forefront of new product and service development, marketing and human-centered design, and are one of the highest accolades a company can receive in the name of successful innovation. For more information about the Edison Awards complete program and a list of past winners, visit http://www.edisonawards.com.