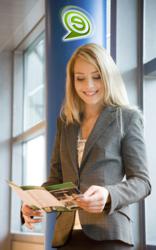 Make your service stand out with our Full Color Brochures
Miami, FL (PRWEB) February 18, 2013
Egprint, one of the biggest online printing companies operating in Miami, Florida has announced its brochure printing services. Business users can order brochures as an effective medium to spread awareness about their brand and inform customers about the product and service offerings. This new service adds on to a long list of printing services already on offer from this printing superstore, including business cards, banners, posters, canvas prints, ordinary postcards, EDDM postcards and more.
Offices, marketing firms, entertainment industry, private services and the other customers have varying size specifications for their brochure printing orders. Egprint caters to a wide range of sizes in portrait layout, starting at 8.5 inches by 11 and going up to 7 inches by 20 inches. The standard brochure size is 9 by 12 inches. The landscape brochure layout is offered in only one size, measuring 25.5 inches by 11 inches.
Other customizations possible while placing the online brochure orders are one-sided or two-sided printing and optional UV coating for a glossy look and better durability. The paper used for printing will be premium stock; either 100Lb gloss text or 100Lb gloss cover. This will use 100% offset printing and with 300 LPI, the print quality will be top notch.
Egprint will also fold the brochures if so desired by the customer. These can be delivered as flat print sheets or in folded format, with the available options of half-fold, tri-fold or letter-fold, Z-fold and double parallel. Each of these folding styles suits brochures serving different purposes. Flat sheets are ideal for flyers and product sheets. Half-fold or tri-fold brochures make good catalogs. The orders have fixed quantity options ranging from 500 to 35,000. Bigger orders at the top end of the quantity spectrum can qualify for wholesale brochure printing at discounted prices.
Customers often place brochure printing orders in bulk while setting tight deadlines. Egprint's printing services are flexible and seek customer satisfaction at every stage. Their staff has a reputation of making every endeavor to shorten the turnaround time so that the printing orders are ready for delivery when requested, as far as possible. Accordingly, customers can visit the website http://www.egprint.net to calculate the estimated arrival date of their brochures, by simply entering their destination ZIP code and choosing one of three shipping options; next day air, 2 day air and ground service. These take 1, 3 to 5 and 5 to 7 business days, respectively. The date displayed works with the assumption that the order is placed before 1 p.m. EST on the given day. This handy delivery date estimation tool also displays the cost of shipping to the customer. The high quality printing offered by Egprint at a reasonable price sets this service apart in the printing industry in Miami, Florida.
Ever inclined to create a wonderful customer experience, this printing company has created several design templates for brochures in all the standard sizes and fold options. They have even included a useful video tutorial on their website to demonstrate how customers can download these ready-made templates free of charge and use them to design their brochures with the help of Photoshop.
Images are a powerful tool to convey a business message and increase sales, if they are incorporated into the brochure design in a smart and creative manner. The business or company should also include their logo for maximum effect. The print quality is top grade with a full range of vibrant colors and gives a professional look to the brochures. The largest size format of 11 inches by 17 inches combined with the half-fold option forms a perfect mini catalog; its spacious layout allows the inclusion of detailed product descriptions and conveys a comprehensive message of the company to potential customers.
Egprint is an established online print superstore that accepts graphic design and printing orders. Now, their latest offering of custom-made brochures in all sizes, folds and finishes meets the varied needs of small and medium businesses. Customers who are interested in taking their business to a higher level and catching the attention of a larger market can create an online account with Egprint through a simple process and take advantage of the flexible options and helpful templates to create impressive brochures. They can be assured of the best quality print and exceptional service.