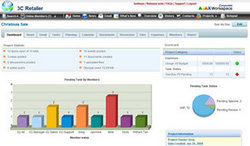 Free services for NGOs and introduction of new packages enable more users to better manage and lead their projects to success.
San Francisco, CA (PRWEB) March 23, 2010
For the past 3 years since its official launch, young and fast growing online project management service provider, AJAXWorkspace has been enjoying the brand loyalty and popularity among internet users around the globe. As their continuous commitment towards a better way of communicating and collaborating, AJAXWorkspace today announced to extend its services to all NGOs and individual for personal usage at no cost at all.
Mr. Adam Young, the Public Relation Manager of AJAXWorkspace stated "Today is a big day for us as it marks another major milestone for us; we are giving away free online project management software and collaboration services and a total prize worth USD 12,000 to our loyal users and bloggers who have supported us from day one. Also, as a company which emphasizes a lot on its corporate social responsibility, we are offering free services which we sincerely hope that it may help many NGOs out there to better manage and lead their projects to success."
Besides announcing their F.O.C services, AJAXWorkspace today also introduced TWO (2) of their new Pricing and Plan packages namely "By Users" and "By Projects". These packages are introduced to accommodate the many different needs base on the feedbacks gathered from their users.
Adam Young added "Unlimited projects or unlimited users, pick one of these packages and it will fit nicely into your needs. Our packages are well designed with affordability in mind, as it starts from as low as USD 20/month for a 5 users workspace with unlimited projects. Also, apart from our standard hosted services, if security and privacy is a concern, enterprise and corporate clients may also opt for the AJAXWorkspace self-managed package which enables the clients to host our online project management and collaboration software in their own building"
Let's discuss a little bit on how an online project management and collaboration tool can help in managing a project. As known, managing a project is not-a-so-simple task by itself. What's more if the choice of tool makes one focuses more on figuring out how to use the tool rather than completing his tasks on hand. That said, the choice of tool will be vital as it will pretty much determine whether a project is heading to success or otherwise.
Take for example; AJAXWorkspace an online project management software and collaboration tool which is equipped with the fundamental features a project manager is craving for. No fancy features and no complicated rules. Simple and straight- forward is the approach AJAXWorkspace takes to manage a project.
The strength of this tool lies on its task management module. It's agile yet simple to use methods of managing task, help to reduce the work of a project manager when it comes to managing all aspects of a task which includes the status, priority, time, human and financial resources planning. Just a few clicks away and everything a project manager wants to know will appear on the screen.
When ask about this, Adam Young replied "We might be relatively young in this industry but all of our features are developed with simplicity in mind which means many users would love it. We too are managing many projects hence, we truly understand how simplicity can help one to achieve greater heights."
Apart from task management, AJAXWorkspace is also equipped with extra features in order to close the loop of the entire project management cycle. Features such as document management, file sharing, collaboration, planning, organizing and sharing of information are built-in and integrated with each other to provide a complete end-to-end project management tool.
In summary, the key to a successful project is to manage it in the simplest way possible and also picking up the right tool to work on it. Do not try to introduce too many rules and regulations that will complicate the whole project management cycle. Always remember, the ultimate goal is still to make sure the project goes live (on time, on budget). Therefore, a good project management tool should help to achieve just that and not adding unnecessary workload to the project team.
For additional information on the news that is the subject of this release kindly send your enquiry to info(at)ajaxworkspace(dot)com
About the Company:
Founded in 2006, AJAXWorkspace is a fast growing online project management and task management service provider. With its mission to simplify the way organizations dealing with project management/task management and vision to see the world enjoying a better way to communicate, work and collaborate. Apart from doing SAAS business, AJAXWorkspace is also constantly gathering feedbacks and doing research on project management to find the best combination and formula to build a project management software that may suit all kind of businesses. For more information, kindly logon to http://www.ajaxworkspace.com.
###