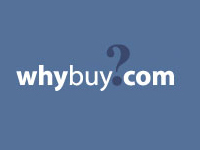 When we looked at the growing online rentals market, we saw a lot of expensive, difficult-to-use niche websites, each focused on one small category of rental items
Atlanta, GA (PRWEB) March 11, 2008
WhyBuy.com is pleased to announce the official launch of its new and innovative online rentals website, which allows visitors to find anything that is possible to rent in one convenient location. The rental website is free both for visitors looking to rent items and for owners looking to rent out anything from homes to stereo equipment to personal services.
This ground-breaking rental listing services platform allows owners not only to list their items for rent on WhyBuy.com, but also to use WhyBuy.com as their own website back-end. Instead of spending thousands of dollars on pricy web development, customers can put up a simple home page with direct links to their product listings on WhyBuy.com. They can then add, delete, and modify listings instantaneously in real-time, and WhyBuy.com does all of the work.
"When we looked at the growing online rentals market, we saw a lot of expensive, difficult-to-use niche websites, each focused on one small category of rental items," said Woody Alpern, one of the founders of WhyBuy.com. "We wanted to give people a better choice, a rental website that was free to use and didn't focus on just one small corner of the market. WhyBuy.com was created to be a one-stop source for online rentals of every kind."
WhyBuy.com's online rentals service is launching with more than 70 rental categories, including traditional categories like apartments and vacation homes plus less common items like horses, video games, snowboards, and even masseuses. Customers can request that new categories and fields be added to the site at any time, making this rental website a constantly growing resource for users, and all listings are fully optimized for maximum exposure on the search engines. For more information, please visit http://www.whybuy.com.
About WhyBuy.com:
WhyBuy.com is an innovative website that offers free rental listing services for any type of item available for rent, from apartments to vehicles to tools. Rather than charging its users, the rental website's revenue comes from other sources, including affiliate partnerships, a premium version of the site, and sales of advertising within emails to site users. The site was founded in 2008 by a group of Atlanta-area entrepreneurs.
###