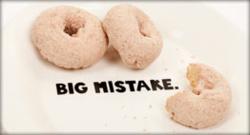 Online Reputation Management succeeded in burying the silly incident, I am confident that I can continue living my life worries free
Cincinnati, Ohio (PRWEB) April 01, 2012
John R. recently turned to Online Reputation Management hoping the Internet reputation management and repair firm could bury his past skeletons and reestablish his online domain.
When the client was 17, he faced a case in court and was charged to pay a fine for a piece of doughnut he forgot to checkout. The 17-year-old was accused of eating a doughnut inside the store and left without paying for it. He was charged with shoplifting and agreed to pay a $200 fine, $10 in court costs and 79 cents to cover the cost of the doughnut. Today, John R., 24, is hoping to bury that information showing he was involved in the case.
"It was a really innocent mistake," said John R. "Even though I was convicted of shoplifting, it was an accident. I turned to Online Reputation Management because five years have passed and that information still haunts me."
John, recently graduated from the University of Cincinnati with a degree in electrical engineering. He plans to begin his job search in the near future, therefore he seeks to bury the distant trial information and start afresh.
"We see a lot of cases where young individuals are involved in various trials and that information resurfaces a few years later as a public record," said Online Reputation Management Founder Ed Eshel. "Luckily, Online Reputation Management is an expert at burying such unfavorable information."
John and Online Reputation Management repair specialists searched the client's name on numerous search engines and found that the negative results surfaced on Google; they tailored their strategy to focus on burying the public records and news articles by replacing the unfavorable search engine results with informative, accurate information highlighting John's positive traits, skills and college achievements.
"Online Reputation Management experts simply switched around the results in order to portray John as he really is, today," Eshel said.
Within several weeks, Online Reputation Management succeeded in burying the afflictive results. On Google, John's public records became nonexistent on the first two pages.
"Online Reputation Management succeeded in burying the silly incident, I am confident that I can continue living my life worries free," John said.
About Online Reputation Management
Online Reputation Management offers powerful solutions for your Internet branding and reputation repair needs. Online Reputation repair and management services work to repair your damaged online reputation as well as manage your online name over time. Online Reputation repair and management services are needed for any individual or business looking to promote themselves in the cyber world. Online Reputation Management's services are ongoing, and consist of varied, effective Internet marketing techniques successful in protecting and re-establishing their clients online presence.