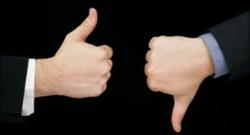 Online Reputation Management really gave me a second chance at selling my books
New York, NY (PRWEB) March 05, 2012
Online Reputation Management's most recent accomplishment: J. Leigh, author of self help tutorials, found herself a victim of a competing author's relentless tirade to drive her out of business. Leigh turned to Online Reputation Management to expose the truth.
"I was popular in stores and yet unpopular online," said Leigh, 34. "The online reviews were simply awful, malicious and false."
Leigh turned to Online Reputation Management after speaking to an online consultant and decided to use their vast knowledge of Internet reputation repairs.
"At first I was a bit timid, but after speaking to their consultant for what seemed to be an hour, I felt confident that I turned to a place that understood me and could assist me in exposing the truth about my books," Leigh said.
Together Leigh and Online Reputation Management's repair team researched Leigh's name and books, attempting to narrow down the negative results. The team discovered that when typing in search engines Leigh's name, instead of finding information about her books, the Internet was flooded with attacking comments and reviews.
"I was aware that I worked in a competitive field but I was not expecting for someone to be out to get me, especially in such an infantile manner," Leigh said.
The online reputation repair team worked diligently to create positive, accurate information regarding Leigh and her books. They compiled an elaborate public relations stint and in no time were able to fill the Internet search engines with up-to-date information about her tutorials, as well as with honest reviews already submitted by her readers, further upholding Leigh's reputation as a hard working, creative author.
"Sometimes in business, people become dirty and they find ways to bring their competition down," said the Company's Reputation Repair Specialist, Daniel Dean. "We are able to erase the falsity and bring the truth to light."
Since contacting Online Reputation Management, Leigh has sold a considerable number of her books online via the blog created by Online Reputation Management. She continues to promote her works online and in stores.
"Online Reputation Management really gave me a second chance at selling my books," Leigh said. "Thanks to them I have attracted more readers and potential investors."
About Online Reputation Management
Online Reputation Management offers effective solutions for your Internet branding and reputation repair needs. The firm specializes in promoting your reputation in a positive and accurate light, and driving search engines away from negative reviews about you or your business. Online Reputation Management doesn't offer this service to unethical companies who want to bury bad press. Online Reputation Management's repair services surpass that of competitors, in repairing its customers existing reputations on the web, and thus creating positive ones. Online Reputation Management has been working with top companies, and recognized individuals, specifically in the United States, and have achieved tremendous successes in their Internet reputation repair and management services.
For additional information, interview, and image requests contact VirtuosOnline.