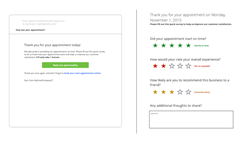 "with the Agendize API, punctuality information could be pushed to local business platforms like Yelp or Foursquare, augmenting the information available to consumers when searching for local services"
Dallas, TX (PRWEB) March 25, 2015
Consumers always look for professionals who are able to provide services of quality, and on time. With the new Punctuality service announced during BIA Kelsey NATIONAL conference, consumers can now rate the punctuality of the businesses they book.
Once they've completed their appointment, customers automatically receive a follow-up email inviting them to complete a 30-second survey. The survey consists of 4 questions that provides businesses the feedback they need to improve the quality of their service: punctuality, overall experience, likelihood to recommend to a friend, open review. Thanks to simple and appealing 5-star scales, customers can rate their experience in just a few clicks.
The feature strengthens the relationship between a local business and its customers. It provides an edge for small businesses who focus on providing a timely service of quality to their clients. Agendize CEO Alexandre Rambaud adds, "we keep looking for ways to help businesses improve their service. Functionalities like post-appointment survey further enhance the superior experience that a business can deliver with Online Scheduling. What's more, customers can rate their experience, without needing to connect to a third-party app such as Facebook or Yelp."
Also, this information can be used to feed existing platforms. Agendize VP R&D Cédric Peyruqueou confirms, "with the Agendize API, punctuality information could be pushed to local business platforms such as Yelp or Foursquare, augmenting the information available to consumers when searching for local services".
Visit the Agendize Online Scheduling Software page: http://www.agendize.com/online-appointment-scheduling-software
Press contact
Raphaël Iscar
Digital Communications Director
+1 514 550 4090
riscar(at)agendize(dot)com