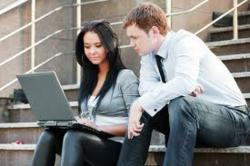 98% of potential students interested in learning more about undergraduate and graduate degrees.
(PRWEB) December 20, 2012
OnlineSchool.com, the Internet's premier website providing extensive and up-to-date information regarding all aspects of the online school experience, reports that traffic to OnlineSchool.com has continued to increase over the past year, with nearly 98 percent of potential students interested in learning more about undergraduate and graduate degrees. In fact, a Sloan Consortium and Babson Research Group report titled Class Differences: Online Education in the United States, 2010 states that nearly six million students were enrolled in at least one distance learning class in the fall semester of 2009. This represents a dramatic increase of almost one million students compared to 2008 statistics.
Further, the report claims there is no valid evidence supporting conjectures of some academic researchers that the consistently strong growth of online school education is abating. Instead, OnlineSchool.com has found that students as well as instructors are embracing the advantages of online school over the restrictions and "ball and chain" style of learning associated with traditional universities.
Advantages of earning an undergraduate or graduate degree online instead of at a "brick and mortar" school was also reiterated by Bill Gates when he gave his Annual Letter Speech in 2010. Praising distance learning he said that "...a lot of people, including me, think this is the next place where the internet will surprise people in how it can improve things". Gates went further to say that "online learning can be more than just lectures" by integrating interactive forms of education that can be "used to find out what a student knows and does not know". Watch the Bill Gates video here: http://www.onlineschool.com/online-schools/.
Noting that over 1000 articles have been published in a variety of educational and psychology academic journals that delve into the reasons why students have readily adopted this type of learning, OnlineSchool.com asserts that the evidence supporting the efficacy of earning an online degree definitely exists. In researching these articles, OnlineSchool.com found that the venerable educational organization ASCD, once known as the Association for Supervision and Curriculum Development, has endorsed distance learning and written extensively about the benefits of online learning.
In addition to being flexible, affordable and with the ability to create enthusiasm about learning via multimedia and interactive platforms, online learning, according to ASCD, also seems to increase a student's accountability more than traditional learning can promote it. Because activities, assignments, participation and assessment scores are monitored efficiently online, instructors are capable of quickly confirming a student's progress in order to detect problems he or she may be having with the course in a timely manner.
OnlineSchool.com has additionally uncovered another significant advantage that distance learning has over traditional learning. By utilizing email and discussion threads, students can gain facilitated accessibility to instructors whenever they encounter difficulty with online assignments or readings. According to an article in the Journal of Online Teaching and Learning titled "An Examination of Online Instructor Presence via Threaded Discussion Participation by Mandernach et al, "...as stated by an instructor, 'when you teach in the classroom, you talk. But when you teach online, you participate in threaded discussions' ". Once a class has ended at a brick and mortar university, the student leaves and usually does not communicate with the professor until the next class session is scheduled. However, students enrolled in an online undergraduate or graduate degree program have the ability to post thoughts, ideas and questions on a discussion thread as soon as they conceive them, allowing the instructor to respond to any inquiries any time of the day or night.
Additional advantages of online educational opportunities will undoubtedly continue to emerge as more students elect to avoid the restrictions and drawbacks associated with earning a degree at a physical university campus. As distance learning pursues a highly successful path that is predicted to one day dominate all other traditional styles of learning, OnlineSchool.com will persevere in its dedication to providing existing and potential students with the most useful and relevant information available concerning all facets of online education.