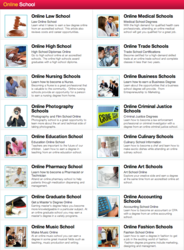 Over 6 Million Students attend an Online School Course.
(PRWEB) September 28, 2012
Domain Invest, S.A. is delighted to announce the launch of OnlineSchool.com, a comprehensive and highly informational website that provides a vast amount of valuable advice, tips and relevant facts concerning all aspects of online education. With OnlineSchool.com, students and others interested in learning about the hundreds of different online schools, diplomas, certifications and degrees will find answers to frequently asked questions as well as solutions to financial aid problems, job outlook data and many common issues students encounter in adjusting to online learning.
Click here to visit OnlineSchool.com.
This unique and easy to navigate website investigates all elements comprising an online school and especially examines in detail the importance of accreditation. Without proper accreditation from organizations qualified to judge the validity of an online school's ability to provide exceptional instruction, a degree earned from an online school that has not voluntarily asked for accreditation from a regional or national accrediting agency may be useless upon graduation.
About the Importance of Online School Accreditation.
Students with degrees from inferior online schools could be saddled with not only a degree that employers do not recognize but debt that may take years to repay. At OnlineSchool.com, the website provides links and lists of recognized accrediting agencies as well as information about the U.S. Department of Education to prevent this from happening to students thinking about enrolling in an online school program.
Additional information found on OnlineSchool.com includes:

Clear-cut summaries regarding what students can expect from programs that culminate in an associate, bachelor or master's degree
An exhaustive list of the best graduate programs that provide ample employment opportunities
How to apply for a graduate program in order to be accepted—letters of recommendation, transcripts and application essays
How to apply for financial aid, what types of financial aid are available and where to find online financial aid forms
All about the enrollment process and what types of identification and/or documents you may need to complete the process
How to avoid "diploma mills" and fake online schools
In-depth profiles of many degree programs, including descriptions of course subjects and job titles students can expect to pursue upon graduation
Prequisites needed before enrolling in two-year or four-year programs
Online High School and GED Programs
OnlineSchool.com also provides information for people who never received a high school diploma and would like to earn a GED online. The accessibility and convenience of online high school classes simplifies the process of earning a GED, which leads to greater employment opportunities and higher wages. Information regarding online schools with high school diploma programs can be found on this new website.
Time-Management Techniques and Study Tips
The flexibility and self-pacing aspect of online school classes attracts hundreds of thousands of students each year, with many students working part-time and even full-time while participating in a virtual learning environment. However, successfully completing an online course means developing self-discipline and time management skills with which some students may need assistance. Online School offers advice and tips concerning studying and memorizing issues as well as suggestions relevant to successfully studying course materials in order to pass online examinations.
Representing a one-stop resource for people interested in learning everything there is to know about online schools, Domain Invest, S.A. is proud to help educate individuals wanting to pursue higher education in the hopes of improving job prospects, increasing income or fulfilling continuing education requirements.