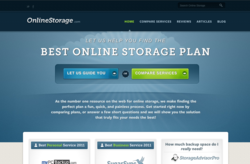 Online Storage is a rapidly growing industry and we work hard to compare the best online storage options.
Rockwall, TX (PRWEB) November 08, 2011
The top resource on the Web for online storage, OnlineStorage.com, recently received a facelift. No, there was no botox involved. Instead, OnlineStorage.com received a complete home page redesign with convenient, easy-to-find links for comparing online storage services, researching popular online storage sites, and reading intriguing storage-related articles.
As part of the makeover, Terran Marketing, which owns and operates OnlineStorage.com as well as sites like IRA.com, OnlineDegree.com, GraphicDesign.com, FreeWP.com, JoomlaTemplates.com, and more, added StorageAdvisorPro to OnlineStorage.com. The handy tool quickly scans a person's computer to determine how much data they have to back up so that they can find the perfect storage plan. It's a must-use for any computing aficionado.
If a person is not sure how much data they have to back up, StorageAdvisorPro can provide an answer within seconds. The software is available for Windows machines and is completely free to download. The site also offers an online backup finder that asks each user a series of questions in order to guide them towards the perfect storage solution.
One of the most popular areas of OnlineStorage.com is its comprehensive archive of reviews, which houses analysis of the most popular storage sites in the business. Terran Marketing explains, "Since this site launched a few years ago, the industry has quickly matured and has grown by leaps and bounds. Now, there are over a dozen online backup services to choose from and counting."
Visitors to OnlineStorage.com will be able to sift through reviews of sites like MyPCBackup, Carbonite, SugarSync, Mozy, Norton Online Backup, SpiderOak, KeepVault, iDrive, iBackup, Safecopy, Box.net, CrashPlan, JungleDisk, BackBlaze, FlipDrive, and SOS Online, just to name a few. In fact, 30 online storage options are evaluated by the pros at OnlineStorage.com. Reviews take a look at areas like top features, pricing, storage capacity, and any ongoing promotions.
The newly created home page of OnlineStorage.com displays the top five personal backup services and the top five business backup services. Regardless of whether a user is in need of online storage for private or corporate use, OnlineStorage.com has them covered.
Online storage is a quickly growing industry. Storing documents online affords a variety of benefits, including protection from data loss, convenient access on the go from any internet-ready computer, and one-click sharing of important files. However, not every online storage option is ideal. Instead, OnlineStorage.com evaluates each option based on its features, security, price, user-friendliness, and technical support.
ABOUT TERRAN MARKETING
The founders of Terran Marketing, Mike Jackness and Jim Varnon, have over 20 combined years of experience building successful brands as online affiliate marketers. Terran Marketing, based in Rockwall, Texas, differentiates itself with outstanding execution on site design coupled with rich content.
###