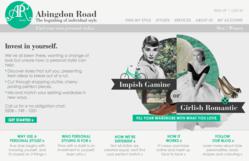 ...the first service of its kind that helps clients identify their own style before guiding them to one of nine stylists who are most suited to their tastes
London, UK (PRWEB) February 24, 2012
Abingdon Road announce the launch of its new online personal shopping service specialising in matching individuals to stylists who fit their personality and preferences through a dynamic visual questionnaire. This is the first service of its kind that helps clients identify their own style before guiding them to one of nine stylists who are most suited to their tastes.
Abingdon Road's unique philosophy is that everyone has innate style based on three things: their personality, body shape and colouring, therefore everyone has an inimitable style DNA. This focus on individuality inspired Abingdon Road to use the model of a dating site to match their clientele with the stylists most suited to them, via the unique visual style questionnaire. Clients explore both their interior design and fashion choices resulting in a bespoke style summation that is based on Abingdon Road's eight timeless style archetypes. The brand was named after the original location of Biba, the shop in the 1960's that sparked a wave of fashion originality, that the core values of http://www.abingdonroad.com exemplify.
Personal shoppers have traditionally been the preserve of celebrities due to cost and perceived exclusivity. Abingdon Road makes going to a personal stylist as easy and accessible as going to a personal trainer, something that ten years ago was viewed as only for the rich and famous. Creating a website where personal stylists with established credentials are readily available was a key motivation for founder, Jennifer Wirth:
'I was personally going though a change where I had been promoted in my job in advertising and I felt none of my clothes suited how I viewed myself anymore; I wanted a professional stylist to help me make the transition but I found it very difficult to find someone who suited me and the look I wanted. When I finally found one, I realised it was her particular style and personality I connected to, and this in turn enabled her to really 'get' me. It was such a valuable experience, I set up a business that made the process of choosing a stylist more transparent and easy while offering a more consistent quality of service.'
Abingdon Road's systematic approach starts with clients taking their visual questionnaire, and based on their style summation they are matched with four to five stylists whose profiles are readily available to explore, and whose services can be booked online or by phone. Sessions ranges from in-home wardrobe clear outs to maximise what clients already have, to shopping trips for new outfits for a variety of events and occasions.
To learn more about the personal stylist matching service visit: http://www.abingdonroad.com
Press Contact:
Jennifer Wirth
0208-749-1031
http://www.abingdonroad.com
###