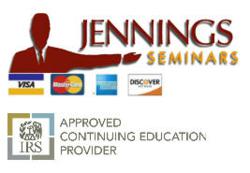 We're really excited about the turnout for this live online tax course.
Orlando, FL (PRWEB) May 24, 2012
A recent two-day tax preparation class, co-hosted by Fast Forward Academy and Bob Jennings (CPA, EA, CTP, RTRP) is being hailed a huge success by organizers. Over 190 tax professionals participated in the live webinar to complete their 15 hours of RTRP, EA and CPA continuing education requirements.
The online tax training class was led by Bob Jennings (CPA, EA, CTP, RTRP) and consisted of 2 hours of ethics, 3 hours of federal tax law updates and 10 hours of other federal tax law, totaling the required 15 hours of continued education for tax professionals.
Participants in the tax preparation course had the option of purchasing the entire two-day tax class as a bundle, or either of the two days separately. The live webinar tax class was so successful that organizers say they will host them again.
Fast Forward Academy CEO, Rain Hughes says, "We're really excited about the turnout for this live online tax course. It was a natural decision for Fast Forward Academy to host live webinars in addition to the physical products and online programs we develop, and we look forward to co-hosting events with Jennings in the future."
In addition to live webinars, Fast Forward Academy offers physical products and online tax training programs to help tax professionals achieve their continued education requirement.
Click here to find an online course for tax preparation.
About presenter, Bob Jennings
Nationally renowned speaker Bob Jennings CPA, EA, CFP, CITP, RTRP has presented continuing education classes to more than 150,000 tax professionals in the past two decades. Jennings is also a best-selling author, writes a regular FoxBusiness.com finance column and has published over 60 professional articles.
About Fast Forward Academy
Fast Forward Academy, LLC provides companies and individuals around the world with the tools to help them efficiently manage their professional education needs. The name Fast Forward Academy reflects the scope of our mission—helping students and professionals accomplish more in less time. To realize this goal, we make every effort to provide the most useful and efficient exam prep material in the market place, all designed to help our students Learn Fast and Pass. Our principal focus is to supply rapid training and streamlined continuing education to professionals in the fields of taxation, securities and insurance.