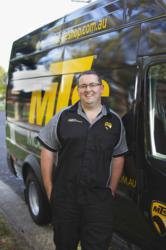 (PRWEB) August 02, 2012
The traditional tyre purchase process in Australia has for years involved consumers obtaining a quote, then taking their vehicles to a tyre retailer for fitting, balancing and wheel alignment. Customers either wait for this to be done, or arrange for a third party to pick them up and return them to pick up their cars later in the day.
However, Travis Osborne, CEO of Mobile Tyre Shop, winner of the recent 3AW Momentum Small Business Success Story Award, has turned the tables on 'tradition' by creating a 'buy online and deliver to you' service.
"We have removed the obstacles that often prevent people replacing their tyres" explained Mr Osborne. "Through our website they are able to obtain and compare prices and book a time for our mobile tyre van to come to them. We will deliver and fit tyres at their homes, places of work, even in parking stations."
"Our mobile tyre shops are state-of-the-art, with not just tyre fitting devices, but also everything needed to do wheel balancing and alignments as well" Mr Osborne continued. "Convenience is our USP, and the response we have had from the general public has been amazing."
Changing Tyre Buying Practices
In its recent report on the car tyres industry in Australia, IBISWorld reveals that the traditional tyre market in Australia is recovering from a downturn. However, the tyre industry around the world is undergoing great change, with online shopping beginning to have a strong presence.
"In the UK it is estimated that 8% of car tyres are sold online" said Mr Osborne. "In the US, the online tyre market accounts for 4%, a figure that is forecast to treble in the next few years."
This trend has been embraced by Mobile Tyre Shop, with many clients opting to purchase their tyres online. The company's prices are very competitive, says Mr Osborne, because the business has no expensive premises to build and maintain.
"Without these expensive overheads, and by bringing customer convenience to centre stage, we are delivering an unbeatable service to the Australian tyre buying public" he explained. "People can research and purchase whenever they want, 24/7, or speak to one of our tyre experts in regular office hours."
To learn more about purchasing discount tyres online visit MobileTyreShop.com.au
About MobileTyreShop.com.au
The Mobile Tyre Shop was created to meet the needs of customers who enjoy the flexibility of shopping online, 24/7, and having the tyres delivered and fitted at their home or place of work. Its online tyre selector helps customers to find the right tyres for their car: searching by tyre size, vehicle type or Brand to see all options that are available.
If clarification is needed, the MobileTyreShop.com.au team is available during office hours to answer phone or email enquiries.
After tyres have been selected, the customer provides details of where the fitting is required to take place - home office, multi-storey car park - even shopping centre car parks!
For more information visit MobileTyreShop.com.au