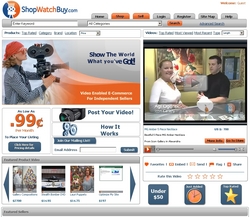 now, rather than looking at a 2-D picture, I can see a product in action.
Leesburg, VA (PRWEB) January 7, 2009
A typically static online shopping landscape has been forever altered to meet consumers' growing demand for a more interactive shopping experience. It's the ultimate example of how supply adjusts to meet insatiable demand.
The explosive growth of high-speed Internet connectivity has made it easier to upload, download, and view online video. It was only a matter of time before the technology was applied to buying and selling merchandise on the Internet. With last week's launch, ShopWatchBuy.com started allowing individuals to approach shopping in different capacities, in one convenient location.
As a seller, one may upload a video demonstration of a product for as little as .99 cents per month. The video that accompanies every merchandise selection permits unique one on one communication with potential buyers. This unique feature transforms selling from a normally static routine to a dynamic experience.
As a shopper, one may simply peruse pics, but this is so painfully normal. When he or she settles upon some irresistible item, he or she simply selects the accompanying video, bringing the item to life. ShopWatchBuy.com makes online shopping personal again.
Online video not only adds the personal appeal of the seller's demonstration of his or her merchandise, but it also provides an entertaining experience that is sure to be remembered. This range of appeal is incalculable in an increasingly interactive society.
"I never realized what I was missing until I visited ShopWatchBuy.com," said elated ShopWatchBuy.com user Tricia Psarreas; "now, rather than looking at a 2-D picture, I can see a product in action." Her experience describes a common sentiment among online shoppers, who complain that static images simply do not show enough about the product.
Convenience and some recognizable features help online shoppers transition from the more traditional, such as E-bay and Amazon, to this revolutionary online shopping environment. Still there is nothing out there like it. ShopWatchBuy.com is poised to be a trendsetter, a true standard bearer in the modern online volatile marketplace.
In fact, considering the progressive nature of the modern online environment, this new approach could be considered less revolutionary and more evolutionary. It seems to be the necessary culmination of technological advances. ShopWatchBuy.com, like wireless capability, will no doubt be treated with skepticism, at first. Before long, however, it will be in such wide usage that a new paradigm will be set.
There are literally no boundaries to the world anymore. There is nowhere people can't go, see, even reach. Clearly hardware and software developers have stood on the shoulders of giants and have naturally taken the next step. Now the sky is the limit, and technology can even peer beyond that.
Owner and creator Ken Price strongly concurs with this appraisal. "In the past, static images were the wave of the future," he says; "now the future is here and ShopWatchBuy.com is ready to take online shopping to the next level." He also offers a fine summary of the nature of the site: "ShopWatchBuy.com is like QVC and E-bay meets YouTube."
Once shoppers encounter this stand-alone, doubly-interactive buying experience, it is sure to revolutionize the way consumers view online shopping. Sellers should also realize that, by throwing online video into the mix, evidence supports the fact that they only stand to significantly increase their sales conversion rates.
The stage is now set. Worldwide, people are more ready to Shop online than ever before. Only, thanks to ShopWatchBuy.com, they may also Watch before they decide to Buy.
About ShopWatchBuy.com
ShopWatchBuy.com is a video enabled e-commerce marketplace for independent sellers. Described by some as "QVC and E-Bay meet YouTube", ShopWatchBuy provides sellers, such as Local Merchants and Affiliate Marketers, a platform for selling products and services online using the fun and excitement of internet video.
# # #