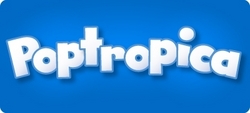 Boston, MA (PRWEB) March 15, 2011
Fans of the bestselling "Diary of a Wimpy Kid" series can now join all their favorite characters on a snow day adventure with today's Early Access launch of Poptropica's new "Wimpy Wonderland Island ." As a special bonus, Poptropica members who log in and play "Wimpy Wonderland" during March will get an exclusive Gold Card, "Paper Boy" or "Paper Girl," which they can use to turn their Poptropican into lined paper like in the "Diary of a Wimpy Kid" book series. This exclusive members-only item will also allow kids to turn other Poptropicans into lined paper boys or girls.
"I'm thrilled to be bringing the two parts of my life together: Diary of a Wimpy Kid and Poptropica," said Jeff Kinney, author of the bestselling series and Poptropica creator. "For the first time ever, kids will get to interact with Greg Heffley and his family and friends in a virtual world. I've created an original storyline for the island, and I'm hoping fans of the series will enjoy experiencing the characters in a whole new way."
Players who visit "Wimpy Wonderland" will discover a snow day in which everyone's enjoying a day off from school - except for "Wimpy Kid" hero Greg Heffley, whose little brother Manny is missing. As they follow Manny's trail and solve the mystery of his disappearance, players will tussle with the Whirly Street kids, fend off cantankerous senior citizens and even venture within arm's length of Fregley.
"Jeff's 'Diary of a Wimpy Kid' is a huge hit in print and on the big screen, and I am confident that Greg will now be at his wimpy best online at Poptropica," said Jess M. Brallier, publisher of Poptropica. "Kids will delight in having Wimpy Kid and Poptropica together in an inventive and surprising experience."
Poptropica Membership gives kids Early Access to new Islands, so they can be among the first to play and complete the newest Islands. Membership also gives kids unlimited use of all costumes and Gold Cards in the Poptropica Store, allowing them to customize their Poptropicans by choosing from their favorite costumes, special abilities and effects - electrifying their Poptropican, creating a meteor shower, spraying silly stream, and much more.
Parents can buy a Poptropica Membership for their kids in one-month, three-month or six-month increments. In addition, prepaid Poptropica Game Cards , redeemable for Membership to the site or Credits to use in the Poptropica Store, can be purchased at select retailers, such as Target and Best Buy.
Late last year, the rapidly growing virtual world for kids ranked Number 5 in the Hot Video Games Category of the 2010 Google Zeitgeist. It was the only kids' gaming site in the top five on the list of the year's most searched-for video games. The robust gaming platform offers countless hours of safe, secure, online fun to as many as 10 million kids each month.
Kids can stay up to date on news about upcoming new Islands and other exciting developments in the world of Poptropica on the official blog at http://blog.poptropica.com/.
About Poptropica (http://www.poptropica.com)
Poptropica is a virtual world in which kids explore and play in complete safety. Every month, millions of kids from around the world are entertained and informed by Poptropica's engaging quests, stories and games. Kids create a "Poptropican" character to travel the many Islands of Poptropica and use gaming literacy to enjoy a narrative that is often rooted in factual history. Problem-solving skills are honed as kids discover and solve mysteries unique to each Island.
There are always new areas to explore in this ever-expanding world where kids can collect objects, read digital books and comics and compete in head-to-head competition. Parents can always trust that their children are playing - and learning - in a safe online environment. Poptropica is published by Family Education Network, a part of Pearson (NYSE: PSO), the education, services and technology company. Pearson's other primary operations include the Financial Times Group and the Penguin Group.
# # #