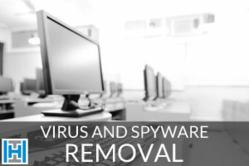 "Time is of the essence in a situation such as this which is why many turn to online virus removal..."
Des Moines, Iowa (PRWEB) December 23, 2012
A virus can do many things to a computer, ranging from making small modifications to files to erasing every file on a hard drive. The virus is nothing more than a program which can copy itself and the extent of damage depends on the skill and maliciousness of the virus creator. In order to spread, the virus relies on a user action such as the opening of an e-mail attachment or visiting a malicious web page. When a computer is infected with a virus, Eric K. Cone of Tech Support Heroes states, it must be removed to prevent further damage.
A virus often affects productivity as it slows a computer down so a quick resolution is needed and yet brick and mortar stores tend to take days to handle a virus removal. "Time is of the essence in a situation such as this which is why many turn to online virus removal. Tech Support Heroes, through the use of remote support tools, connects with the infected computer to perform the removal in a short period of time. The client never has to leave his or her location. To complete the process, safeguards are put into place to ensure the problem does not occur again," Mr. Cone goes on to say.
Hundreds of thousands of files and folders make up the Microsoft Windows operating system on a computer and a virus can infect any one of these files and folders. All are necessary for the optimal user experience which is why virus removal tools are essential and yet these tools often aren't enough to prevent infection. Viruses tend to hide in places so a traditional program can leave remnants behind. "Tech Support Heroes ensures the windows virus removal finds these hidden portions to ensure the problem doesn't come back again," Mr. Cone continues.
"It takes time to pack up the device and head to a computer shop, time that the client may not have which is why Tech Support Heroes offers remote virus removal. Our company is based in the United States and offers assistance by connecting with the infected computer remotely to remove the virus and fix the problems," Mr. Cone explains. "The diagnosis is free and each client gets a one on one consultation as they deserve nothing less."
About Tech Support Heroes:
Tech Support Heroes offers remote computer repair along with on site service for clients and works hard to ensure the client's expectations are met or exceeded. The diagnosis is always free and is completed by a computer expert as all technicians hold various certifications from HP, Cisco, Microsoft, CompTIA and Dell. The job is always done right the first time and Tech Support Heroes is a HP, Microsoft and Symantec partner in addition to being a member of the McAfee Security Alliance. The latest tools and technologies are used with the goal being to build relationships with the customers. If the problem isn't resolved, the customer does not pay to help achieve this goal.
MEDIA CONTACT:
Eric K. Cone
Des Moines, Iowa 50309
888-420-8595
eric(at)techsupportheroes(dot)com