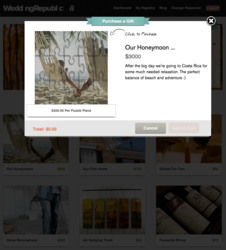 "Wedding Republic is about helping couple's design their future together. It's less about the gifts, more about the couple" - Hana Abaza, co-founder and CEO
Toronto, Canada (PRWEB) July 18, 2012
Online wedding registry website Wedding Republic, recently launched a redesigned version of its cash gift registry with a more appealing interface for couples and wedding guests making the gift-giving experience fun and convenient.
According to Hana Abaza, co-founder and CEO of Wedding Republic, the goal was to create a beautiful wedding registry page that is more focused on the couple. "Wedding Republic is about helping couple's design their future together. It's about giving them the power to choose what they want and need to build their lives. This can be anything, from your house down payment to custom artwork. It's less about the gifts and more about the couple."
With Wedding Republic, couples can customize their wedding gift registry by adding photos of their ideal gifts to their wish list. They can include a description, set the price, and even break apart more expensive gifts into a puzzle allowing guests to chip in by purchasing affordable pieces. Wedding Republic also has a list of popular gift suggestions from which couples can draw ideas and inspiration.
Since Wedding Republic is a cash wedding registry, couples redeem the monetary value of their registry, meaning they aren't tied to a specific store and have the flexibility to use the funds as they see fit.
On top of making the registry more visually appealing, the re-design also makes giving a gift even easier for friends and family. The convenience of contributing to the registry online from the comfort of their own home, and avoiding unnecessary trips to the store makes this the perfect solution for wedding guests who are also on a tight schedule.
Abaza goes on to say, "keeping your registry personal and showing friends and family that they're contributing to your future is the key to creating a registry they'll love. It's a win-win scenario, couples get what they really want and guests get a convenient and meaningful way to give a gift."
In addition to revamping the look and feel of the website, couples now have access to a personal registry consultant that can help guide them through the process and answer any wedding registry questions that might have.
About Wedding Republic
Wedding Republic is an online cash wedding registry offering a unique alternative to traditional wedding registries. It's a better option for couples, because it gives them the freedom to choose the gifts they really want. From honeymoons to house down payment – nothing is off limits.
It also provides friends and family a fun and convenient way to give. Wedding guests can view the couple's wish list and contribute cash towards something they know the couple will appreciate.
Wedding Republic's signature puzzle piece feature also provides group gifting for more expensive gifts, allowing guests to contribute what they can afford towards big-ticket items. A sample registry can be seen at http://www.weddingrepublic.com/sample.
For more news and company information visit: http://www.weddingrepublic.com/about