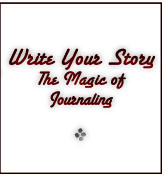 Writers will discover the unique gifts and perspective they alone bring to their life's journey.
Boston, Ma (Vocus/PRWEB) March 15, 2011
Upstart independent publisher, Ecco Qua Press, in Beverly MA, offers a 4-part series of online writing classes aimed at discovering and shepherding undiscovered talented writers and helping them navigate the writing and publishing industry. The inaugural class, beginning in June, is "Write Your Story: The Magic of Journaling."
This course focuses upon cultivating an intentional approach to journal writing. By means of four targeted writing exercises each week during the four-week class, participants put pen to paper to begin developing a theme and structure that builds their life's narrative, igniting inner reflection, imagination and self-awareness. The class prepares talented aspiring writers not only to write their stories but to develop the skills to keep writing, enabling them to discover and appreciate the unique gifts and perspective each individual brings to life's journey. Writers will also develop their individual styles and mode of creative expression.
Each session includes online worksheets, writing assignments and associated reading assignments. Participants submit assignments online to the instructor for private review at the end of the first week. During the second week, work is posted for group review and feedback. Throughout the class participants engage in group online discussions on request and are encouraged to take advantage of informal discussions with other class participants.
The class is designed for individuals interested in writing their life's story and taking it to a new level; for writers who want to learn key components of successful journaling and the elements that elevate their story; and for beginning writers who would like a Published Author to help guide and coach them as they pursue their writing goals.
Cost: $150.00
Registration begins March 15 at http://eqwrite.blogspot.com
Ecco Qua Press upholds the tradition of finding and shepherding gifted writers and equipping them to navigate the writing and publishing industry and become active participants in the wider cultural conversation.
These practical, affordable short-term classes will instruct, stretch and empower the aspiring writer.
###