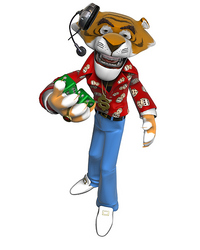 The software company added the Live Support Feature to their All-in-One Game Lobby
(PRWEB) November 21, 2007
BackgammonMasters customers can now get immediate customer support at the click of a button. "The software company added the Live Support Feature to their All-in-One Game Lobby" following the recent launch of 21 Blackjack. The addition of 21 Blackjack caused a sharp rise in downloads, membership and traffic. This well-timed development in the game platform provides players with help on the spot.
The huge increase in traffic is due largely to the availability of the software in 12 different languages and even more so as a direct result of BackgammonMasters real money 21 BlackJack launch which added a new game in the game lobby right next to their Backgammon, Poker, Perudo real money games.
Customers click a button in the BackgammonMasters game lobby and are either immediately connected with a representative, or they are presented with a sequence of questions which will direct them to an operator who already knows exactly what the customer is going to ask and has called up their details promptly.
BackgammonMasters launched their Live Support Feature in English and will soon be adding live support in all of the languages offered in their platform. A spokesperson for the company stated that BackgammonMasters seeks to open the line of communication with their customers and in this way they will add to their loyal customer base and members will see that there are real people standing behind the software and behind the company, people who are online and ready to assist.
BackgammonMasters.com Live Support System currently supports all four games -
including real money 21 Blackjack games. More about blackjack and blackjack game rules can be found at: http://www.backgammonmasters.com/blackjack-articles.html
Release by Gammonish.com - Backgammon online resource for news and information.
For further online backgammon news about BackgammonMasters.com's new online 21 blackjack game see http://www.gammonish.com/blackjack.html.
###