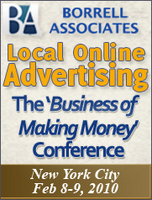 These companies have defied gravity and are on track to secure the Top 3 spots this year
Williamsburg, Va. (PRWEB) October 27, 2009
The local online ad consulting firm of Borrell Associates has named Yodle, Local.com and Yellowbook.com as the fastest-growing local online advertising companies for 2009 with annual revenues exceeding $25 million.
"These companies have defied gravity and are on track to secure the Top 3 spots this year," said Peter Conti Jr., executive vice president of Borrell Associates. "They're the new darlings of Main Street."
Conti said executives from each of these companies have agreed to address Borrell's 2010 Local Online Advertising Conference in New York next February. The agenda has been rounded out with the addition of Heath Clarke, CEO of publicly traded Local.com (LOCM) and Patrick Marshall, chief new media officer for Yellowbook.com, owned by publicly traded Yell Plc (YELL). Borrell announced in September that Yodle CEO Court Cunningham would be a keynoter for the event.
"We now have executives from all Top 3 fastest-growing companies on the agenda," Conti said. "In a year when average local online ad growth is 5%, it'll be interesting to hear how these guys are able to perform at least seven times better." Borrell Associates just released its latest forecast of local online advertising for 2010 (2010 Outlook Report: Local Interactive Advertising) and the local online ad spend is expected to go from $14.2 billion this year to $14.9 billion in 2010.
Yodle is on track to triple its revenues, to roughly $75 million this year, according to Borrell, while Yellowbook.com is expected to nearly double its revenues to about $390 million. Local.com is expected to grow its revenues by more than one-third, surpassing $50 million.
Borrell's aptly named conference subtitle is "The Business of Making Money Conference." All speakers are being selected based on revenue performance of their companies and the ability of their business models to generate profits.
About Borrell Associates:
The ad strategy and consulting firm, Borrell Associates, is the leading provider of local advertising research, data and strategic analysis. The company provides detailed market advertising reports for hundreds of local interactive and traditional media companies, including Local Online Ad Spending, and customized reports for any U.S., Canadian or U.K. market and publishes monthly online advertising reports. For more information, visit our Web site.
Borrell Associates' Local Online Advertising Conference (LOA '10) will be held Feb. 8-9 at the Grand Hyatt Hotel in New York. Early-bird registration, offering discounts of up to $400, ends Oct. 31. For information, go to our conference site.
About Heath Clarke:
Heath joined the company as President and Chairman in March 1999 and has served as CEO since January 2001. From 1998 to 1999, Heath was Vice President of eCommerce for LanguageForce, Inc., a language translation software company. Heath is also a guest lecturer for online advertising at Pepperdine's Executive MBA program; he was a 2005 finalist for the Ernst and Young Entrepreneur of the Year award.
About Patrick Marshall:
Pat Marshall joined Yellowbook as Chief New Media Officer in 2007, leading the company's growing new media endeavors, including yellowbook.com and Yellowbook's search engine advertising product, WebReach. With more than twenty-five years of marketing and new media leadership experience, including senior roles with Verizon, Frontier Corporation and The Dun & Bradstreet Corporation, Pat brings extensive knowledge in internet local search and new and emerging technologies to Yellowbook.
###