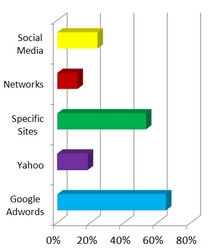 There are no monthly fees and no hidden costs; customers simply pay for the clicks, and there is a low minimum spend of just £5
(PRWEB) May 15, 2010
Online advertising agency Simply.com recently surveyed hundreds of small businesses to understand how they do online advertising, how much they spend and what challenges they face.
Amazingly only 31% of the businesses that responded to the survey did any advertising on the web. Most of these had an online advertising budget less than £10,000 per year and 69% were spending less than £5,000 p.a.
One of the key questions was whether small businesses are using an agency to advertise, or whether they are doing it themselves, or a mixture of both. Surprisingly only 15% of respondents used an agency, 75% advertise directly and 10% did both. Over 60% of the business surveyed that advertise online used Google Advertising, with only a small percentage using networks like Simply.com.
Of these businesses 52% said their advertising was not profitable for them and 54% said they could get traffic to their site but very little converted into business. This is actually one of the main problems facing small businesses trying to advertise online. Many small businesses set up a Google Adwords campaign and think it will work, without having any search marketing knowledge, however setting up a successful campaign requires a thorough understanding of not only keyword research, keyword competition, search engine traffic, and how search engines work, but also on how to convert traffic into leads.
The survey results are therefore not surprising considering that 75% are advertising directly and that 46% did not feel they understood online advertising well enough to make their campaigns work effectively. Furthermore, nearly 40% felt that although they have the tools, they did not have the time.
One of the key challenges facing small businesses is that they can't afford the typical fees that search marketing and digital media agencies normally charge. Fees for pay-per click advertising often consist of a fixed management fee and a percentage of ad spend, so while this might work for larger businesses spending over £1,000 a month on buying ads, the management fees become too high in proportion to the ad spend for smaller advertising budgets. Also agencies usually require contracts of at least 12 months, but half of the agency users surveyed were not happy with signing long term contracts.
The online advertising service offered at Simply.com could be the answer to many of these challenges because it provides many of the services a standard agency provides but without the associated costs. There are no monthly fees and no hidden costs; customers simply pay for the clicks, and there is a low minimum spend of just £5.
More importantly, setting up a campaign is "simple" as their name implies. It is much easier than setting up a Google Adwords campaign and unlike Adwords, there is a strong support team that customers can call at any time for help and advice. The Google campaigns which customers set up are monitored and improved by a team of qualified Adwords professionals, and there are clear and simple online reports which show a campaign's performance in real time.
Customers can run both Google and Network advertising across non-Google sites from the same interface. There is no need to sign up for different accounts on the different search engines and networks.
The main thing that distinguishes Simply.com from other online advertising networks is its ad targeting technology. Ad delivery is optimized in real-time taking into account performance based on both contextual targeting but also and very importantly, behavioural targeting. Therefore if the response rate on ads using behavioural targeting is better than that using contextual, more of the ad budget is allocated to behavioural delivery method. This unique approach, according to Simply Labs, is helping customers achieve click through rates that are more than double the industry average.
When the Simply.com service was described to the survey respondents, nearly 50% said they would try the Simply.com service.
Simply is exhibiting at the Business Startup Show at ExCeL in London on May 21st and 22nd and customers that visit their stand can get a free voucher to try out their system.
For more information, please contact: Simply Customer Services on 0845 363 3630, or write to:
Simply Customer Services,
Simply Ltd,
Acton House,
Perdiswell Park,
Worcester,
WR3 7GD
# # #