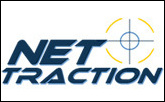 Scotts Valley, CA (PRWEB) June 29, 2006
NetTraction (http://www.NetTraction.com), one of today's top affiliate marketing service firms, announced the "reinvention" of itself by edging into a market that has consumed both affiliate and traditional advertising. NetTraction now offers "Performance Based Advertising" in addition to the affiliate marketing services it has offered for over six years.
Greg Shepard, CEO of NetTraction, says, "Google has taken a massive portion of the available site inventory, affecting the affiliate channel - whether affiliate firms wish to admit it or not. Organic search is ever more competitive; paid search is cost prohibitive for many and offers no vested interest. CPM rates are high, offer no performance guarantee and have extremely high cash burn rates. The need for cost-effective online advertising is stronger then ever, and the new approach, performance based media buying, is the next evolution in performance based advertising."
Greg continues: "It seems the game is not just traffic any longer. It's traffic which both parties - the affiliate partners and the merchants - have a vested interested in the success of. As merchants and partners become even more aware of the need for each other, friction decreases and new forms of integration and aggregation are made possible. NetTraction leads the way in the ever-changing landscape of cost-effective online advertising."
Greg's viewpoint is backed by various studies. PricewaterhouseCoopers and the Interactive Advertising Bureau released a report stating that Performance Based Advertising comprised $6.7 Billion - 54% - of all online advertising spending in 2005. The IAB also reported that 13% of all advertising of forth-quarter revenues were priced on hybrid bases. The increasing demand of both partners and merchants for profitable campaigns has moved Internet marketing into the mutually advantageous terms of cost-plus-performance or Performance Based Advertising.
About NetTraction
NetTraction was founded in 1999 and currently has over 65 employees and 30,000 square feet of office space in Scotts Valley, California. The firm has 100+ clients, 100,000+ partners, 100 Affiliate/Ad Networks and 1,200 Syndication Partners worldwide. NetTraction's client base is comprised of small, midsize and large companies. The firm has earned the business of Internet Retailer, Revenue Magazine and Mathew Lesko.
NetTraction is offering new clients a $500.00 credit towards advertising. To learn more, contact NetTraction through its website, via email or by calling 888-743-2513.
Contact:
Thelo Aiken
Director of Sales
NetTraction
Phone: (888) 743-2513
Fax: (831) 600-3301
Thelo[@]NetTraction.com
###