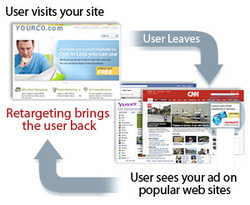 "Imagine if you could reconnect with people who were previously on your website, and target them with very specific ads." - Ryan Hickman Adneedle President & Founder
Albany, NY (PRWEB) July 13, 2010
Adneedle unveils another tool in its arsenal for online advertising. Retargeting allows advertisers to deliver online display ads to web site visitors after they've left. This allows accurate delivery to these lost prospects, significantly increasing conversions and sales.
Research by retargeting provider FetchBack found that nearly half of internet users return to a retail site immediately after being served a retargeting ad – generally within the hour.
Adneedle allows anyone to utilize retargeting, as well as easily create, manage and track their web site marketing campaigns.
"Imagine if you could reconnect with people who were previously on your web site, and retarget them with very specific ads," remarks Ryan Hickman, President and Founder of Adneedle. "Until now retargeting has only been available to large ad agencies. Adneedle makes this technology easy and accessible to businesses of all sizes to use in their online marketing campaigns."
Coupled with Retargeting, Adneedle's fully automated approach to running rich media banner advertising includes behavioral, demographic and geo targeting on hundreds of major web sites. This full level of data allows an easy solution for any business to effectively control ROI and set realistic conversion and sales goals for online advertising.
To learn more about Adneedle and its Retargeting features, please visit adneedle.com.
About Adneedle
Adneedle is a complete management solution for online display advertising. It allows businesses of all sizes to design rich media ads and launch campaigns, and then track the results across multiple ad networks and media sites. Adneedle is designed so that anyone can log in, select, budget, manage, design and deploy engaging online advertising campaigns easily from a single platform. Adneedle is free to use with no contracts or commitments.
# # #