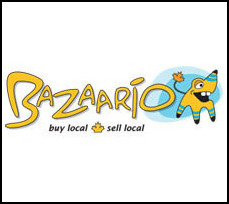 We truly believe Bazaario.ca will change the way Canadians buy and sell online
Calgary, AB (PRWEB) August 23, 2006
Launched in Calgary on June 23rd, Bazaario.ca became the first Canadian dedicated online auction site. The dynamic team behind the site has targeted the end of 2006 for the completion of its National Expansion Plan. Bazaario is Canada's number one site for people looking to buy and sell locally online and a revolutionary new player on the Canadian Internet marketplace.
By bringing communities of buyers and sellers together, Bazaario helps Canadians sell that valuable antique they've had hidden away in the attic or buy that new home entertainment system they've been thinking of. Bazaario allows its users to deal with fellow consumers from across the street rather than across the International Date Line - many new auction items are added daily so be sure to check out the listings now.
Jeff Nelson, VP & General Manager for Bazaario.ca, has been directly involved in the development and marketing of the site. "The response to the Calgary launch has been phenomenal and we are tremendously excited at its potential to impact the greater Canadian online marketplace. As the site continues to grow exponentially, we remain committed to maintaining its ongoing success for our customers."
Mr. Nelson goes on to say that everyone on the diverse and energetic team behind the new site has proven to be just as passionate as he is. "We truly believe Bazaario.ca will change the way Canadians buy and sell online," he said.
He added that, as part of its present promotional campaign, new registrants to Bazaario.ca will be entered to win an Apple iPod (contest closes August 31).
About Bazaario.ca
Buy Local. Sell Local. Bazaario.ca is Canada's Number One site for people looking for new and more practical ways to buy and sell online. Bazaario brings local communities of buyers and sellers together to deal in goods ranging from antiques to recreational vehicles and everything in between. From across the street to across the country, Bazaario is the solution Canadians have been looking for.
While the site services only Alberta at this time, national expansion will take place in the immediate future. For most items, Bazarrio.ca charges no listing fee, simply a small percentage collected when the bid is successfully closed. Higher priced items, such as vehicles and homes, are listed at competitive rates. For more information on transactional fees, or other functional aspects of the site, click here.
For more information contact:
Jeff Nelson, VP & General Manager
(403) 410-3803
###