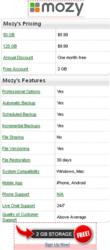 When we first mentioned a Mozy app for iPhone and Android to our MozyHome customers a month ago, the feedback was overwhelmingly positive. We are very excited to announce that it's now available in the iTunes and Android App Stores
Austin, TX (PRWEB) June 23, 2011
The demand for online backup services for smart phones in the small business sector continues to grow. The Online Backup section of ChooseWhat.com announces a fresh review of the new Mozy Android app now providing low cost services for individuals or companies requiring both office and portable device protection against data loss.
In addition to now providing apps for Andoid, iPhone, and iPad, Mozy data backup service offers a professional plan, including server backups. Online-Backup.ChooseWhat.com rates the cost of Mozy above average, with the monthly fee cheaper than the industry standard of 15 cents per gigabyte of storage, and including the Mozy Restore Wizard, with 30 days of history available at no additional charge.
ChooseWhat engineers publish a free data storage industry standard to compare leading products featured for consumers that choose to visit http://online-backup.choosewhat.com. The portal comparison grid measures products against the standard, including the latest pricing plans and discounts, which consumers can use to compare the top online backup services on the market.
Charlotte Yarkoni, COO of Mozy states, "When we first mentioned a Mozy app for iPhone and Android to our MozyHome customers a month ago, the feedback was overwhelmingly positive. We are very excited to announce that it's now available in the iTunes and Android App Stores, and our customers can access all of their backed up data from their iOS or Android mobile device."
Many of the online backup reviews featured on the Online-Backup.ChooseWhat.com show low prices, and most of the service providers offer a free trial period to test the respective product. Site reviewers ensure the latest free trial or coupon offers are included in the respective product reviews on a routine basis.
About Online-Backup.ChooseWhat.com:
The ChooseWhat Online Backup comparison and review resource is designed to help business owners searching for easy and affordable ways to back up data. Losing personal or business data is a costly event, and the service reviews are tailored to help break down the features of popular online backup services, such as Mozy, Carbonite, iDrive, and more. Most featured services cost approximately $5 per month and can mean the difference between losing a significant amount of business or personal records and maintaining valuable files and sensitive information.
Contact Details:
online-backup.choosewhat.com
401 Congress Avenue, Suite 1540
Austin, TX 78701, USA
Email: lindsey(at)choosewhat(dot)com
Phone No: 512-448-9042
Website: http://online-backup.choosewhat.com
###