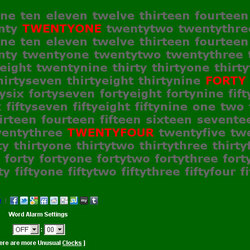 Online Clock is celebrating five years of reliable timing, waking people up with its various Online Alarm Clocks, Countdowns and Timers, and providing hours of fun for its users!
San Francisco, CA (PRWEB) April 3, 2011
Founder and website creator Thomas Churm has added several new faces to the Online Alarm Clock to mark the fifth anniversary of the site. However, these are the attractive faces of clocks, not humans.
Much different from all of the other clocks, the five new faces each have one common attribute that sets them apart from the others - they're Word Clocks. When asked if these are clocks that display the time in words, Mr. Churm smiled and replied, "Yes and no. The term "Word Clock" actually refers to clock signals that are synchronization methods, which are powered by a master clock. They're used to maintain an error-free continual bit rate. I knew it would make a great timing method and fun idea for a new form of online clock. Three of the new clocks' time displays are visually shown in words, but two are in numeral form."
Mr. Churm also explained that he values the trust users have put into Online Clock over the years and hopes that they will continue to use the site as their form of "master clock" for an alarm clock, everyday time-telling and synchronization of house clocks. "The Word Clocks are just something fun I wanted to offer Online Clock fans. I like to surprise them with frequent new features, just for fun," Mr. Churm added. It is no surprise that someone so dedicated to providing a useful, multi-faceted and free time-telling service to the world would think of the clever idea of online Word Clocks. Mr. Churm explained the site's new features in this statement: "There are five different clocks and each one has a different display face. There are reversed-text, flipped-text, plain-text, number and Roman numeral clock display choices."
Online Clock's default Word Clock displays the time as a set of text characters forming number words. The first set ranges between one and 24; the current hour is highlighted in red on this set. Next, there is a display of numbers between one and 59. As the minutes pass, the correct reading will be highlighted on this set of words. The last set is the second measurements, ranging between one and 59 also. This is where the timing is seen live; as each second passes, the correct number is highlighted, so the highlighter is constantly moving. In keeping with tradition, the Word Clocks are also available in Online Clock's signature display sizes and background colors. Not only is this new feature useful in telling the current time, but it also has an alarm function.
Always keeping current with trends, Mr. Churm also created a Flipped-Text Word Clock. The same number-counting method for the default clock is used, but the text is flipped upside-down. As upside-down text has become a popular way for teens communicating through social networks lately, Mr. Churm wants to be sure he has all bases covered, providing a form of the Word Clock that is fun for all age groups. This idea is reflected in his statement, "I want this new clock feature to be fun and fresh - for everyone." Another clock face shows the words written backward, which is also an intriguing look. Trying to read backward text is also a mind challenge, so this clock really has a double purpose. Many people prefer the classic look of Roman Numerals for a time-telling device, so Mr. Churm also created a face for them. The last choice is a simple Number Clock. This face is identical in numbering sequence to the default Word Clock, but the numbers are not displayed in words.
When asked why there were five display faces chosen, Mr. Churm replied sincerely, "It's simple - I like to give people choices. Also, I chose the number five to celebrate and mark the fifth anniversary of Online Clock." Yes, Online Clock is celebrating five years of reliable timing, waking people up with its Online Alarm Clocks, Countdowns and Timers, and providing hours of fun for its users! Mr. Churm has released many revolutionary and useful online clocks in the past several years, becoming a pioneer of online time-keeping. Online Clock started out as a simple site with an alarm clock. Mr. Churm's vision was to create a site that the entire world can use to tell time, set their watches or simply have a free alarm service. With his continued efforts and cultivation, Mr. Churm's visionary site grew into the world's most popular online clock. He has also released several games, timers, countdowns and unique online renditions of other clock types. Mr. Churm also enjoys sharing his passion for time with the world by educating them through interactive social networking pages.
Over the years, Mr.Churm has made a point to offer all of the site's features for free - with no hassles to sign up for subscriptions or other email-clogging hassles. There are definitely few sites left on the internet that don't ask for every bit of personal information, or in some cases, everything short of a blood sample and fingerprint - just for a free service. It is a well-known fact that most websites today are promoting something, which means there is a catch. The catch will inevitably require every bit of personal information, leaving web-surfers closing the site in frustration - and their personal information floating through web-space. Then, of course, they will later be reminded of their frustration again when new spam messages surface through the email inbox.
When asked if he currently promotes anything via Online Clock or plans to in the future, Mr. Churm smiled kindly, shook his head and said, "Absolutely not. I value each and every person who comes to my site, as well as their trust. I only want to promote a free online clock with a bunch of creative features that anyone can use any time they wish, with no commitments, obligations or hassles. I don't think anyone should have to explain themselves or tell me their day and evening phone number just to explore my site or use the clocks." Chuckling lightheartedly, Mr. Churm continued, "I know that feeling of frustration - and I want to be that one awesome site out there that treats its users better than the rest." Perhaps this is why Mr. Churm donates much of his time to making the site all that it is, keeping such a strong loyalty toward the site users and visitors.
Perhaps one of the most unique things that has made Mr. Churm's site grow substantially over the past five years is that it isn't a one-sided site. Too many people are familiar with the boring feeling of visiting endless sites that are only informational; most of them don't offer multiple features, much less room for feedback. Throughout his site, Mr. Churm warmly encourages visitors and regular users to explore, discover, share and interact. He welcomes suggestions and comments for all time and clock topics. "While the site was my vision, I want everyone to have an active part in the make-up of Online Clock," Mr. Churm explained, "some sites just put their information out there. End of story. I want to be the site that is versatile enough to take advice, comments and suggestions from the people who use it - and use that to build on. Their opinions and feedback are important to me." As Mr. Churm continues his dedication to Online Clock, it is safe to say every future year in March, there will be an exciting new addition to this unique site.
About OnlineClock
Online since March 24th, 2006, Online Clock, the Online Alarm Clock was the world's first online alarm clock website. Online Clock strives to be the number one network for the simplest, most useful and best Online Clocks, Timers and Time Tools. For more information on the various online alarm clocks offered for free by OnlineClock, please visit http://onlineclock.net/about/.
###