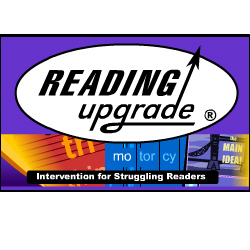 My 8th grade son has spent hour after hour on your program trying to get himself caught up this summer.
San Diego, CA (PRWEB) September 6, 2007
Many students are prepared and excited to do well this year: Bags packed, summer reading list checked off, and visions of A's and B's on the refrigerator. There are, however, thousands of students starting the year already behind, sometimes by 2 or more years in reading and math. To the rescue is San Diego based Learning Upgrade who has fine-tuned its popular online courses, Reading Upgrade and Math Upgrade, to help students get a head start on the school year.
A key consideration is how to motivate students that need a boost. They may already be struggling and new pressures make it increasingly difficult to retain an optimistic and encouraging outlook for the year.
Learning Upgrade's Math and Reading programs work where other online courses fail because they are able to fully engage the student and make learning fun. They incorporate music, video, interactive games and randomization of questions to create a fun, engaging and highly effective learning tool for all students and adult learners.
With praise from parents, teachers and students worldwide, Learning Upgrade provides online intervention courses for rapid Catch Up and Keep Up:

In 8 to 12 weeks, students can complete a course to bring them up to proficiency
Courses are engaging and motivating through songs, video and games
Detailed student tracking and web-based reports keep students from falling behind
Goal: Within one semester, turn around failing students
Since 2001, Learning Upgrade has been providing students and schools with online learning games that show results. More than 50,000 students from 40 countries around the world have used the online courses to improve test scores, jump grade levels and to study for standardized tests.
Recently, Knight Middle School in Louisville Kentucky worked with Learning Upgrade to establish a new 1-semester course for students entering school behind in math. The plan will include the Math Upgrade online course to tutor each struggling student one-on-one. Students will rotate through teacher lectures, the online course, and practice on paper.
Outside of school, Learning Upgrade is making a difference. Roy K. writes: "My 8th grade son has spent hour after hour on your program trying to get himself caught up this summer." The online courses are engaging to students and make them want to learn.
While most students will carry some amount of worry going into the school year, there are still ways to ease this experience and get prepared for a successful year. Learning can be fun whether you are trying to get a head start or need to play a little catch up. After all, it's amazing what can happen when students enjoy learning.
###