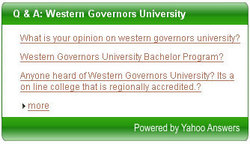 Milwaukee, WI (PRWEB) December 10, 2007
The most comprehensive college and university website available, http://www.completeschools.com, announces their newest feature College Questions and Answers, which can match prospective students - and their parents - with answers to all their questions from people attending the schools they are interested in. Powered by Yahoo Answers, this new feature provides some of the most important information that students need when deciding on a college or university.
As any high school senior will tell you, everybody from your grandmother to the guy behind the counter at McDonald's seems to have an opinion about what college will be perfect for you. Skip all of the unhelpful (and unwanted) advice and go straight to the source: the people who attend the college(s) you are considering. Beside the comprehensive data on over 6,500 colleges and universities, Completeschools.com has added a new section with college questions and answers regarding many of these schools from the students who go to them.
While where to apply is the first question, there are many more questions that need answering. With all of the news lately about college loan scams, finding the right loan can be as scary as any decision parents and students need to make. Completeschools.com includes a large section on student loans with over 300 related answers from other students and parents. There are also comprehensive sections with answers and advice on admission exams, scholarships, and admission essays.
With new online degree programs seeming to pop up every day and many people interested in continuing their education via distance learning, high school seniors are not the only people with serious questions about college. This new preponderance of distance learning programs makes it very difficult for people to know which one is right for them. How does Western Governors University compare to the University of Phoenix? Does the local college offer a night program in the field I am looking for?
Once again, the completeschools.com College Questions and Answers section provides an invaluable service for these prospective students. While researching the costs of attending the University of Phoenix compared to Western Governors University, you are one click away from answers from attending students about how these schools - and their different degree programs - compare. These answers, along with everything else provided, makes completeschools.com the most comprehensive college and university website in the country.
If you would like more information about this topic, please send an email to completeschools(at)gumdropmedia.com
Or visit their website http://www.completechools.com
###