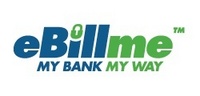 Consumer spending online is an indicator for consumer preferences, attitudes, and offline trends in society
WILMINGTON, Del. (PRWEB) August 26, 2008
The eBillme Online Spending Index, conducted by Javelin Strategy and Research, and to be released quarterly by eBillme, polled 1,600 consumers to measure projected online spending for the quarter and the influencing factors including the economy, available payment options, security, and financial control. This quarter, the Index also polled consumers about their online spending for back-to-school shopping.
According to the Online Spending Index, the economy and credit crunch are having an impact on consumer buying this quarter, especially when it comes to female shoppers.
48% of consumers are delaying purchases due to uncertainty in the economy 32% of consumers are willing to spend more if they could purchase online with cash revealing a general shift towards cash preferences Female consumers indicated a 5% decrease in credit card sentiment further indicating a shift towards cash "Consumer spending online is an indicator for consumer preferences, attitudes, and offline trends in society," says Marwan Forzley, President and CEO of eBillme. "The Index results show a significant shift in consumer behavior, especially among female consumers. We have noticed that as compared to men, a higher percentage of women are concerned with fraud, identity theft and the economy. In fact, 38% of women said that they would purchase more online if they could control their finances and pay using cash."
This quarter's Index also surveyed respondents about their projected back-to-school spending. 18% of consumers plan to shop for back-to-school purchases online with females and 18-24 year olds representing the majority.
"We thought it was most important to bring this critical information to the retail industry and give online retailers a projection of consumer spending for the upcoming quarter and an opportunity to gain critical insight on customer behavior," says Forzley. "We look forward to releasing this data quarterly to provide a snapshot of consumer online shopping activity and track the various trends that will be uncovered."
eBillme and Javelin Strategy and Research will be presenting a Webinar to discuss the research findings and consumer trends from the data. The Webinar will be presented on September 24th at 1PM EDT. To register, please visit http://tinyurl.com/66kau6.
For more information or to sign up to receive future editions of the eBillme Online Spending Index, please contact Alicia Buonanno at Alicia@GregoryFCA.com or 610-642-8253 ext. 118.
About the Index
The Index is based on data collected from an online consumer deployed in August 2008, with a sample size of 1608 respondents. The survey targeted US adults (age 18 +) and was based on representative proportions of gender, ethnicity and income as compared to the overall US online population. Overall margin of sampling error is ±4.4 percentage points at the 95% confidence level.
The next Index will be released in November, 2008. Data from the Index will be posted on the eBillme website, http://www.ebillme.com/index.
ABOUT eBillme
eBillme™ is the only online payment solution that extends the convenience of online banking to the merchant's checkout, reducing the security risks of shopping online for both consumers and retailers. No financial data is exposed to the retailer, and the payment transaction is securely transferred from the customer's bank to the retailer's bank. Consumers can shop online, by catalog or through call centers, and pay cash for their purchases at their bank, credit union, or bill pay portal, with the security and convenience of online banking. eBillme allows retailers to access the over 84 million Americans who use online banking. For more information, please visit us online at http://www.eBillme.com or our blog, http://blog.ebillme.com/.