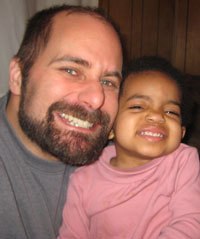 I can take an exam at midnight or 1 a.m.
Essex Junction, Vermont (PRWEB) March 19, 2009
You don't have to leave home to get a degree in animal welfare. Ask Paul Kopulos - a 41-year-old stay-at-home dad living in Vermont, who is finishing his bachelor's degree in humane leadership from Pittsburgh's Duquesne University.
Kopulos, like all other students in the unusual program (which is co-sponsored by the Humane Society of the U.S.), is earning his degree completely online, while caring for a two-month-old baby, a two-year-old toddler, and three shelter pets (two dogs and a cat). The degree is aimed at people who wish to work in animal welfare or advocacy positions.
GetEducated.com is rewarding Kopulos' efforts with a $1,000 Excellence in Online Education Scholarship.
For Kopulos, going to school online worked perfectly with his hectic lifestyle.
"With the kids and everything else going on in my life, I can do my school when I need to," says Kopulos. "I can take an exam at midnight or 1 a.m."
Online education is appealing to nontraditional, older students like Kopulos, who are turning to the Internet for maximum flexibility in training for new careers. Internet learning has broadened to include a variety of unique degrees.
Vicky Phillips, GetEducated's founder, says that "a decade ago, a narrowly specialized degree like this one -- leadership in the animal welfare sector -- would have been impossible to find. One physical college could not have found enough students within commute distance to sustain such a narrow career specialty."
Phillips advises career-changers searching for in-demand majors to consider online education, now a stable part of America's higher education scene.
"Online education is at the forefront of providing fast and flexible degrees in hot career areas such as green construction, computer forensics and information security," says Phillips.
As a part of his online learning, Kopulos took courses and became certified in the treatment of "compassion fatigue," which affects animal workers who deal with ill or dying animals. Kopulos says he may use this certification to train workers in nearby shelters. He also hopes to run an animal shelter.
GetEducated.com, a consumer advocacy group that rates and ranks online colleges, awards several distance learning scholarships each year. The competitive awards are based on grade point average, a written essay and demonstrated financial need.
Students wishing to compete for online college scholarships can register at GetEducated.com's Excellence in Online Education Scholarship page.
About: Founded in 1989, GetEducated.com, LLC, a consumer advocacy group, ranks, rates, and verifies the cost, quality and credibility of online college degrees and online university programs.
###