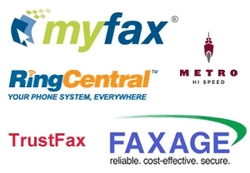 Austin, TX (Vocus) October 29, 2010
FaxCompare.com, a review and comparison site for fax to email services, has updated 24 reviews of the top Internet fax services on the market. The pros, cons and conclusions of each review now include information about discounts for annual contacts, fax preview screens, number of email addresses allowed to send/receive faxes, fax quality and local and toll free number options.
In addition to the updated reviews, users can also view a grid with updated features of each service, as well as specific vendor updates about such things as expanded coverage, Smartphone apps and product awards. Users can also sign up for a free trial of most of the fax services through the website.
About Internet Fax Services
Internet fax services allow people to send faxes through an online interface or fax through email accounts. Internet fax services typically give customers an allotted number of fax pages per month for a low monthly price, online fax storage for varying amounts of time, and an 800, 866, 877 or 888 dedicated number for your fax line.
Some of these services will also offer combined pages that can be used as either outgoing faxes or incoming faxes at will, a discount for paying annually and the ability to create a blocked/allowed call list in order to avoid being charged for junk faxes.
For more information on Internet fax service comparisons and reviews or to check out free fax service trials, please visit http://www.faxcompare.com.
# # #