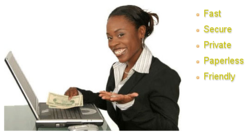 Online payday loans are an easy way to keep a resolution on track after the mid-January slump.
(PRWEB) January 24, 2012
CashWire.com, an online payday loan provider, keeps individuals working toward their new year's resolutions by providing cash when it's needed.
One of the most widely upheld traditions each year is to make a new year's resolution. Each New Year's Eve, millions of people around the world vow to lose weight, save more money, quit smoking, travel more, or a plethora of other resolutions to improve their life. The start of the new year provides a fresh palette for a happier, healthier, more robust lifestyle.
Along with making these resolutions comes a new expense for keeping them. For many new year's resolutions, additional funds are needed to jump start the ongoing success.
Online payday loans are an easy way to keep a resolution on track after the mid-January slump. They are also easy to come by, and can be very affordable with quick repayment periods, usually on the next payday. Payday loans can be used for any resolution-related expense, including:

Weight loss programs
Gym memberships
Smoking cessation programs
Visiting with a financial advisor
Plane tickets and travel expenses
When looking for a payday loan, CashWire.com can help. CashWire is a little different from traditional payday loan providers. As a payday loan matching service, CashWire finds the right loan provider to match the borrowers' needs. With an easy online application process, CashWire.com requires no paperwork, and usually takes only two minutes. This quick process through CashWire means that, once the borrower is approved, the lender will wire the money to the borrower's account in as little as one hour. The lenders working with CashWire.com can offer up to $1,500, which allows access to cash quickly, when it is most needed. And with a quick repayment timeline borrowers can avoid costly interest payments, which keeps more cash in their hand longer.
Along with using CashWire.com's instant online payday loans for continued success with new year's resolutions, borrowers can use this money to help pay off credit cards after the holiday gift giving season, or to help fix a car that needs repair. Having cash on hand when it's needed most is an important comfort to have, and CashWire keeps that comfort level high.
With CashWire.com, borrowers are able to lose weight, be active and fulfill resolutions like never before.
About CashWire.com
CashWire.com is a lender matching service providing customers with access to fast, secure online payday loans up to $1,500. With a convenient online application and accommodating payment options, borrowers get the cash they need when they need it.
###