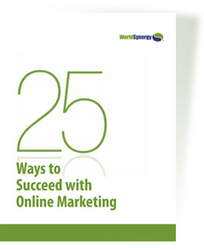 Our online marketing team assembled the easy-to-read guide to help businesses avoid mistakes and stumbling blocks in the ever-changing area of Internet marketing
Solon, OH (PRWEB) June 4, 2010
World Synergy, an integrated online marketing firm, today released "25 Ways to Succeed Online," a free report filled with practical advice and reminders to help companies generate more leads and sales while protecting and building their brands.
"Our online marketing team assembled the easy-to-read guide to help businesses avoid mistakes and stumbling blocks in the ever-changing area of Internet marketing," said Mike Murray, World Synergy's Web Strategy Thought Leader. "We hope the wisdom we offer in this guide helps marketers make sensible, cost-effective choices with their digital assets."
Anyone who references this guide will benefit from strategies and tactics such as:

How to refine your Website for ROI
How to carefully choose keyword phrases for search engine optimization (SEO)
How to audit your Calls to Action
The online marketing guide covers link building, search engine optimization, social media and more. You can access the guide, free of charge, by going to World Synergy's Website:
http://worldsynergy.com/25-ways-to-succeed-in-internet-marketing.asp
World Synergy understands the importance of balancing your business's weaknesses and strengths, while turning a disadvantage into an advantage. Our 25 tips will help you identify the best ways to help your online marketing efforts succeed.
If you need guidance on your online marketing strategy, call us at 440.349.4940.
About World Synergy:
An eBusiness Partner from thought to thrive, World Synergy, an online marketing firm, is a leading Strategic eBusiness Services company located near Cleveland, Ohio. We shape integrated online marketing and technology strategies to increase clients' sales and improve their ROI.
For over a decade, World Synergy has delivered world class service combined with a synergistic client business relationship. World Synergy is a full service eBusiness consulting firm focused on clients' top line growth. Our breadth of services includes a unique combination of business strategy, creative marketing, communications and design, application development and computing infrastructure architecture expertise to deliver eBusiness solutions that get results.
###