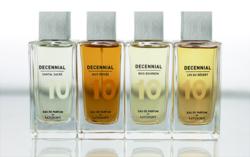 "Decennial fragrance captures our city of Los Angeles in all its energy, laid-back nature, diversity, complexity and controversy."
Los Angeles, CA (PRWEB) November 13, 2012
Fall under the spell of Los Angeles with Decennial, the unique new fragrance tribute to the City of Angels from LuckyScent.com, the premier destination for savvy online perfume lovers. Each of the four unisex Eau de Parfums evokes a facet of Los Angeles' unique sense of place: its natural desert surroundings, contemplative yoga culture, vibrant and eclectic nightlife, and speakeasy noir culture.
LuckyScent.com collaborated with two of the industry's top perfumers – Andy Tauer and Jérome Epinette – to create this perfume passport to Los Angeles.
"Decennial truly captures our city of Los Angeles in all its energy, laid-back nature, diversity, complexity and controversy," said Adam Eastwood, co-founder of LuckyScent.com. "Fragrance e-commerce began 10 years ago with LuckyScent.com, and we became the virtual Spice Road for the world's most innovative and captivating scents. The journey continues…" said Franco Wright, co-founder of Luckyscent.com
DECENNIAL - NUIT EPICEE
A nod to the obscure and sophisticated nightlife hidden throughout Los Angeles' mysterious and hidden back streets. Nuit Épicée plunges its wearer into a dark paneled room of velvety, oud-like woods and spice, subtly sweetened with praline and almond and warmed with an ambery-vanillic base. Jeans, black tie and everything in between…or nothing at all. NOTES: Almond, cumin, rhubarb, cistus, violet, blond woods, black amber, praline.
DECENNIAL - SANTAL SACRE
Conceived of as a serene and meditative fragrance to counter-balance the hectic pace of day-to-day life in Los Angeles, Santal Sacré epitomizes East Meets West. The clean and aromatic smell of burning incense; the scent of unfinished wood releasing its heady perfume…relaxation, quiet revelation, and peace. NOTES: Ginger, elemi, incense, white musks, papyrus, Australian sandalwood.
DECENNIAL - LYS DE DESERT
An ode to what spawned Los Angeles – the rugged yet delicate, unforgiving yet captivating desert – is captured in Lys de Desert. Perfumer Andy Tauer combines this special, creamy botanical with the warmth and dryness of the desert, a natural space that has fueled his olfactory imagination for years. NOTES: Bergamot, rose, green lily, dry cistrose, iris root, ambergris, dry cedar.
DECENNIAL - BOIS BOURBON
Bourbon – a spirit of choice which inspired author Raymond Chandler's private eye Philip Marlowe, and Franco and Adam alike – has infused the sophisticated elixir that is Bois Bourbon, created as a softer, wearable bourbon fragrance. Detective Marlowe never had it so good. NOTES: Saffron, cinnamon bark, lavender, heliotrope, black rose, cedarwood, beach birch.
The Decennial collection is available in 75 ml French glass bottles with hand cut polished aluminum caps. Each fragrance retails for $150 and is available exclusively at online perfume retailer LuckyScent.com and at its retail destination, Scent Bar, in Hollywood.
About LuckyScent.com
LuckyScent.com creates the experience of unique scent discovery by featuring over a thousand master crafted perfumes from around the world, categorized by styles and notes. As a leader in the online perfume world, LuckyScent.com makes the world's most exclusive and luxurious fragrances available to shoppers at home. The LuckyScent Scent Bar boutique in Hollywood offers a social experience similar to that of a wine bar, where fragrance lovers can leisurely experience some of the world's rarest and extraordinary fragrances without a high pressure sales pitch.
For product samples, high resolution images and additional information, contact LuckyScent.com: adam(at)LuckyScent(dot)com
Visit http://luckyscent.com/