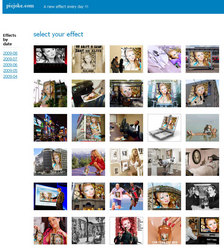 Palo Alto, CA (PRWEB) August 12, 2009
There is no doubt that people have already evolved from the good, old-fashioned Homo sapiens to the modern, computer-using Homo computerus or Homo digitas. Most of them spend much of their time looking forward extraordinary ways to promote themselves among different communities and social networks. Computer users are trying to ensure others that they are head and shoulders above in using various programs, web tools and online resources. There is no better way to impress friends than making them smile or laugh at some funny photos and pictures.
At last, Picjoke LTD did it! Thanks to new approach and concept net surfers will enjoy a new style fun each day. Now they do not need to learn how to work in picture editing programs which are usually hard for non-professionals with all those technical stuff in them. Visitors can make themselves an artist in seconds with the website which lets them add funny photo effects to their pictures online within a matter of seconds. When good result is just three clicks away, it could be an asset. Users will receive amazing results - maybe funny, maybe silly - but, anyway, they will get original photos and some more reasons to smile. Besides, users are not bored with annoying advertisement on the page. Everyone remembers Google's home page. People find there just what they look for -the search line, nothing else. Quick, easy and free could be an attractive slogan for many places offering same functionality, but due to some reasons it is not so. Picjoke's web-site offers a good level of simplicity, creativity and "ad-free" attitude.
"Here is a hint for free. Disappear someday, do not pick up the phone and reply your friends' email. Use this time to meditate or look back at your life. Take a pause to glance at what you've achieved. Or do whatever you want, read a book, pay a visit to your grand parents. And then, suddenly, when you are up with everything, pop up by sending your friends the pictures from the service and wait for friends' reaction!", said Tim Tailor, director of Picjoke LTD.
Service users can also publish these photos on to their blog, social media networks or share it with their friends by direct downloading it from the website.
Tom Tailor, director of Picjoke LTD, decently stated: "The website introduces people to the power of photo editing offering a good collection of online photo effects for fast and easy editing. Besides, we decided to add a new photo effect each day, so that our visitors would have a wider variety of options to choose from. We have developed a special software which allows quickly apply a photo effect with high end quality. Application of such effects online requires powerful rendering capacities and we continuously working on improvement. Besides, our team works hard to create new amazing effects on a daily basis".
Addition of new effects each day, which, by the way, sometimes reflects the hot topics of the day, is a demanded and important feature. Good example of Picjoke team's work is the opportune photo effect with Michael Jackson.
Well, for a company established in the beginning of 2009 the results seem tremendous. A very flexible concept of making fun and good mood from nothing works well and increased number of the visitors as Picjoke's website is the best proof of that. Easy sharing of the resulting image ensures satisfaction of both creator and receiver, especially if the latter one has no clue of what he is about to receive soon.
Never underestimate the power of creative surprise. Well, at least Tom Tailor promised to keep surprising us with funny photos online and users will be able to see their other products soon as well.
###