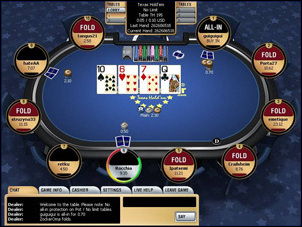 (PRWEB) January 10, 2007
CelebPoker.com - The Worlds First Celebrity Poker Room - is proud to announce that a new milestone has been reached. The Online Poker Room has confirmed that the 500 millionth hand has been dealt this week.
In total there are more than 32 Poker Players who have received a cash prize of $25 or more. The celebration of half a million hands dealt started at hand number 498,000,000, where the winning player received $250 and all other players involved received $25. The winning Poker Player of hand number 500,000,000 even received a cash prize of $1000.
CelebPoker.com is growing so rapidly at the moment they are already looking forward to the next milestone: 1 billion hands.
Meanwhile, CelebPoker.com will continue to offer the most exclusive promotions in the Poker industry. The Online Poker Room is now offering one of the biggest deposit bonuses in Online Poker; a 300% up to $500 deposit bonus.
Furthermore, CelebPoker.com has announced that it will continue to organise their successful VIP Freeroll tournaments, which means that on the 1st of February at 20.00 GMT a new $5,000 VIP Freeroll will take place.
Besides these massive VIP cash tournaments, CelebPoker.com has also announced that it will host more special tournaments, where the most exclusive prizes can be won. CelebPoker.com Management Team did not want to announce all prizes, but did mention one; a F1 Ferrari helmet signed by Michael Schumacher himself.
Free Cash Tickets
Our special MGR bonus' have now been extended with more great prizes for those who rake between $500 & $1500 for 2 consecutive months. This new promotion is on top of all existing promotions we currently running and will start on 1st December. Even more reasons to keep on playing at CelebPoker.com
More information about the above mentioned promotions can be found on http://www.celebpoker.com
###