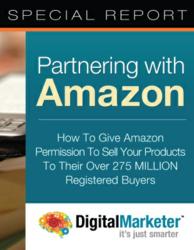 The Special Report shows how just about any item can be offered on Amazon and help a business or entrepreneur gain Internet presence.
Austin, TX (PRWEB) April 22, 2012
Online publishing has taken the book writing industry by storm, today's DigitalMarketer.com article said. No longer are authors subjected to the tedious, red tape-filled process of uncertain manuscript acceptance and weak promotional practices. Now that the Internet has changed the way we get information, online publishing is modifying the entire literature landscape.
The article said that Digital Marketers has announced the release of their Special Report "Partnering with Amazon: How to Give Amazon Permission to Sell Your Products to their Over 275 Million Registered Buyers." It's the how-to guide for self-publishing on Amazon, which is home to one of the largest collections of credit card-wielding customers.
Amazon selling can be a profitable experience, said the article, especially when the blueprint for success is laid out in an easy-to-follow manner. The Special Report does that, and offers advice on using all of Amazon's purpose-filled features to achieve the desired outcome.
Kindle Direct Publishing, for example, is Amazon's in-house digital publishing program. It allows people to publish e-books, essays, reports, memoirs, and any other written information through Amazon itself, giving near-complete control over the appearance, price, and promotion of the content. "Partnering with Amazon" describes Kindle Direct Publishing in full, and points out the advantages over traditional publishing along the way.
The article said that traditional print publishers have struggled to keep up with digital content, as Amazon corners the market and the Kindle e-reader outsells similar products. In fact, Amazon's dominance has supposedly inspired illegal collusion to raise prices, proven by the recent Justice Department charge of five publishing houses with collusion.
That means those who want to know how to get a book published need only get a hold of "Partnering with Amazon," the article said. They'll have access to the expert advice of Digital Marketers and the step-by-step instructions for getting content sold through Amazon.
E-books aren't the only thing Amazon can sell, said the article. The Special Report shows how just about any item can be offered on Amazon and help a business or entrepreneur gain Internet presence. That and the free targeted traffic to their website will add to the increased sales sure to come from Amazon's crowd of customers.
The Digital Marketing Labs are devoted to providing innovative and cutting-edge techniques for increasing marketing effects. The group of industry experts works to promote brands, businesses and personalities with the most success. For more information, visit DigitalMarketer.com.
As digital content continues on its tear, an e-retailer like Amazon sits in a wonderful position. The article said that it needs more content available for its customers, making self-publishing a realistic goal. Online publishing is changing the state of book culture, and "Partnering with Amazon" will show exactly how to take advantage of the shift.