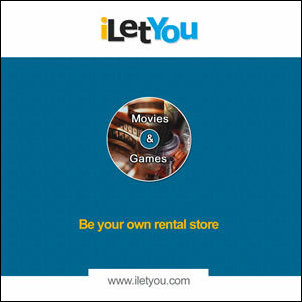 Our goal is to unlock the diverse and eclectic inventory of DVDs and Games owned by independent video stores and individuals, enable new rental businesses, and create a rich online rental community. iLetYou gives the power to the users and truly changes the way people rent
San Diego, CA (PRWEB) April 24, 2007
iLetYou (http://www.iletyou.com) launched the public beta of its open online rental community today, creating the first rental platform where users can instantly start their own online rental store for DVDs and Games, as well as rent a wide range of titles from other stores in the iLetYou community.
iLetYou allows any video store, entrepreneur or individual with a collection of DVDs and Games to start their own personalized online rental store in a matter of minutes. iLetYou charges no upfront or monthly fees to instantly create an online rental business with unlimited items for rent, partnering with stores on a strictly revenue share basis.
Users can quickly browse the available inventory of DVDs and Games, rent from a store of their choice within minutes, and receive their items in the mail. Users also benefit from complete transparency on the availability of a particular DVD or Game, multiple rental options, and store ratings and feedback, delivering a rich user experience.
"Our goal is to unlock the diverse and eclectic inventory of DVDs and Games owned by independent video stores and individuals, enable new rental businesses, and create a rich online rental community. iLetYou gives the power to the users and truly changes the way people rent", said Rodger Visitacion, Co-founder and CEO.
About iLetYou, Inc.
iLetYou, Inc. was founded in 2006 to bring open rental platforms to the online world, democratizing the online rental experience and allowing everyone to participate both as a renter and as a store. iLetYou, Inc. was founded by Internet entrepreneurs CEO Rodger Visitacion and COO Vaibhav Domkundwar with offices in San Diego and San Jose.
For more information, visit http://www.iletyou.com or e-mail pr (at) iletyou.com.
###