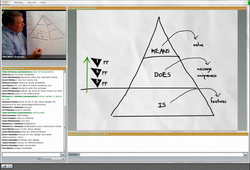 Corporate Visions has created a highly engaging series that's one of the most interesting and compelling virtual training programs we've seen
Incline Village, NV (PRWEB) June 8, 2009
Responding to market pressures to provide more training virtually, and provide a simple, easy way for participants to refresh their knowledge on an ongoing basis, Corporate Visions launched Power Messaging® Virtual this month.
This innovative combination of modular, online coursework and highly interactive web conference coaching gives companies access to the industry's leading sales messaging training in a blended learning environment.
The approach lowers the cost by excluding the need to travel. In addition, because the content is available in virtual modules, trainees can continue to come back to key content for just-in-time coaching, which helps with retention and stickiness, compared to classroom training.
Fiserv Inc., the leading financial services technology company, is one of the early users of this new approach.
"Power Messaging Virtual has given us the ability to distribute our new messaging, along with selling techniques rapidly and effectively across the sales organization. I have been especially pleased with how quickly our field teams have absorbed the training concepts," says Joan Skimmons, SVP of Sales & Marketing for Depository Institution Services at Fiserv.
"Our organization has now experienced both the on-site Power Messaging Training workshop and the new Power Messaging Virtual approach. I can say with confidence that the virtual environment Corporate Visions created has been as equally effective and engaging as the on-site workshop," Skimmons added.
After the course, 92% of the participants rated the Power Messaging Virtual experience better than other online training they've taken, and 86% rated it as better than any on-site, instructor-led, course they had ever attended.
The online sales training coursework modules use Brainshark as the on-demand, delivery platform.
"Corporate Visions has created a highly engaging series that's one of the most interesting and compelling virtual training programs we've seen," said Andy Zimmerman, VP of Business Development for Brainshark, Inc. "At a time when it's so critical to keep reps in the field producing revenue, Corporate Visions' Power Messaging Virtual provides not only a convenient learning experience that can be viewed anytime, but also one that reps will truly enjoy."
About Corporate Visions Inc.
Corporate Visions helps companies differentiate themselves from their competitors - where it counts, in their customer message. The Corporate Visions Customer Message Management™ system helps companies create, deliver and sustain messages in a way that creates a differentiated customer experience at the point of sale. Corporate Visions works with globally recognized companies such as MasterCard, ADP, IBM, Fidelity, Volvo Trucks, CA and many more. Corporate Visions provides marketing and sales messaging, tools and training products and services. For more information contact us at http://www.CorporateVisions.com or call 775-831-1322 or 800-360-SELL.
# # #