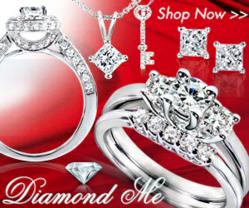 thanks to our new affiliate partnership, people around the world who want to buy diamonds or fine jewelry from Diamond-Me's exceptional catalog can conveniently start their online shopping experience at MyReviewsNow.net."
Las Vegas, NV (PRWEB) April 17, 2012
People around the world who are looking to buy diamonds and other fine jewelry can now enjoy spectacular selection, top quality items, deeply discounted prices, and a truly satisfying online shopping experience by accessing the new Diamond-Me catalog available at MyReviewsNow.net.
Diamond-Me is one of the world's most popular, trusted and respected fine jewelry companies. In business for more than three decades, Diamond-Me is able to help customers buy diamonds at discounts of more than 50% thanks to the company's direct relationship with world class cutters, and its in-house manufacturing capability. Plus, all Diamond-Me diamonds are guaranteed to be conflict-free, so customers can be assured that their purchase isn't encouraging unethical or socially irresponsible practices.
"At MyReviewsNow.net we carefully choose our affiliate partners, and reject far more applications than we accept," commented an Affiliate Relationship Representative from MyReviewsNow.net. "And that's why we're so pleased to be working with Diamond-Me. They offer an unmatched blend of selection, pricing, reliability, reputation and ethics. And thanks to our new affiliate partnership, people around the world who want to buy diamonds or fine jewelry from Diamond-Me's exceptional catalog can conveniently start their online shopping experience at MyReviewsNow.net."
Visitors to MyReviewsNow.net can also leave product reviews and share feedback on their diamond buying experience. It's unbiased, unfiltered and un-sponsored communication that online shoppers won't find anywhere else.
For more information or media inquiries, contact Lina Andrade at info@myreviewsnow.net. Press release issued by SEOChampion.com.
About MyReviewsNow.net
A virtual mall of services, products and publications available online, MyReviewsNow.net is a business directory that sets itself apart from similar sites by offering both professional reviews and customer testimonials on the Internet's hottest offerings in a fun, simple format that is easy for online shoppers to enjoy.
About SEO Champion
SEO Champion was started in 1999 and is owner operated by Michael Rotkin, SEO Specialist for over 17 years. Michael Rotkin's goal for his clients is to "own" keyword placements for the top 3 slots organically, so that his clients can earn a higher return on investment from their advertising dollars. Rotkin realizes the value of SEO over Pay-Per-Click campaigns, where click-throughs are generally more expensive and harder to convert into sales. SEOChampion's intense work ethic can be seen in daily and weekly reports that show progress through organic keyword gain. This effort is the reason his SEO firm has been able to build a loyal client base for many years. Learn more at http://www.seochampion.com.