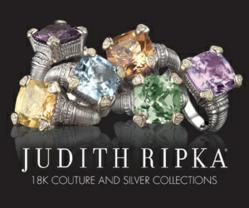 At MyReviewsNow.net, we not only feature some of the world's top brands such as Judith Ripka, but we promote current and trend-setting products. In other words, when online shoppers want to see what's hot and desirable right now, they need look no further
Las Vegas, NV (PRWEB) April 28, 2012
MyReviewNow.net affiliate Judith Ripka, the renowned and award-winning designer of fine jewelry for women of exquisite taste, has launched its much-anticipated new gold collection.
Judith Ripka's new gold collection features a spectacular selection of fine jewelry, including a stunning link bracelet, a charming pair of triple circle hoop earrings, an elegant pave bangle with diamond cubes, a dramatic single stone pendant with pink mop, and more. Each piece is designed to make a lasting impression and become a treasured heirloom. The Judith Ripka new gold collection also features unique gift ideas for those who truly want to delight someone in their lives.
"MyReviewsNow.net is very pleased to feature the exquisite new gold collection from world famous fine jewelry designer Judith Ripka," commented an Affiliate Relationship Spokesperson from MyReviewsNow.net. "Online shoppers looking for elegant, uplevel jewelry or gift ideas aren't being served by typical online shopping malls, which often feature overstock and surplus items. At MyReviewsNow.net, we not only feature some of the world's top brands such as Judith Ripka, but we promote current and trend-setting products. In other words, when online shoppers want to see what's hot and desirable right now, they need look no further than MyReviewsNow.net."
Online shoppers eager to explore Judith Ripka's spectacular new gold collection can visit MyReviewsNow.net's Diamond & Fine Jewelry Portal right now. They can also leave and read helpful, unbiased product and service reviews that they won't find on any other website.
For more information or media inquiries, contact Lina Andrade at info(at)myreviewsnow(dot)net. Press release issued by SEOChampion.com.
About MyReviewsNow.net
A virtual shopping mall of services, products and publications available online,
MyReviewsNow.net is a business directory that sets itself apart from similar sites by offering both professional reviews and customer testimonials on the Internet's hottest offerings in a fun, simple format that is easy for online shoppers to enjoy.
About SEO Champion
SEO Champion was started in 1999 and is owner operated by Michael Rotkin, SEO Specialist for over 17 years. Michael Rotkin's goal for his clients is to "own" keyword placements for the top 3 slots organically, so that his clients can earn a higher return on investment from their advertising dollars. Rotkin realizes the value of SEO over Pay-Per-Click campaigns, where click-throughs are generally more expensive and harder to convert into sales. SEOChampion's intense work ethic can be seen in daily and weekly reports that show progress through organic keyword gain. This effort is the reason his SEO firm has been able to build a loyal client base for many years. Learn more at http://www.seochampion.com/.