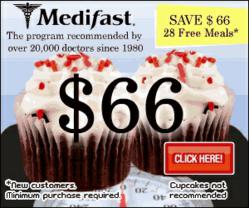 Las Vegas, NV (PRWEB) May 09, 2012
MyReviewsNow.net, an online shopping leader that showcases the Internet's hottest products and services through its innovative and easy-to-navigate virtual mall, announced that it has welcomed renowned weight loss and meal plans company Medifast to its growing family of fitness and weight management-focused affiliate partners.
Developed by a physician and recommended by over 20,000 doctors since 1980, Medifast's meal plans are available in over 70 different appetizing varieties, and are suitable for people with weight loss goals, weight management goals, and who have special dietary needs. Plus, Medifast's meal plans are budget-friendly, with the company's popular 5-in-1 plan costing on average $11 per day – which is typically less than a single restaurant meal.
"MyReviewsNow.net is very pleased to welcome Medifast into our growing family of fitness and weight management-focused affiliate partners," commented an Affiliate Relationship Spokesperson from MyReviewsNow.net. "The benefits of the Medifast meal plans program are well documented and doctor recommended. Plus, their low-cost meal plans are suitable for both men and women, and not just one instead of the other. That means more people can achieve their weight loss and other goals – which is good news!"
Individuals with weight loss or weight management goals, or who have special dietary needs and want meal plans that supports their lifestyle, can shop Medifast's selection by visiting MyReviewsNow.net's Fitness and Weight Management Portal. They can also read unbiased consumer reviews, which will help them make smart online shopping choices.
For more information or media inquiries, contact Lina Andrade at info(at)myreviewsnow(dot)net. Press release issued by SEOChampion.com.
About MyReviewsNow.net A virtual shopping mal l of services, products and publications available online, MyReviewsNow.net is a business directory that sets itself apart from similar sites by offering both professional reviews and customer testimonials on the Internet's hottest offerings in a fun, simple format that is easy for visitors shop and enjoy.
About SEO Champion
SEO Champion was started in 1999 and is owner operated by Michael Rotkin, SEO Specialist for over 17 years. Michael Rotkin's goal for his clients is to "own" keyword placements for the top 3 slots organically, so that his clients can earn a higher return on investment from their advertising dollars. Rotkin realizes the value of SEO over Pay-Per-Click campaigns, where click-throughs are generally more expensive and harder to convert into sales. SEOChampion's intense work ethic can be seen in daily and weekly reports that show progress through organic keyword gain. This effort is the reason his SEO firm has been able to build a loyal client base for many years. Learn more at SEO Champion.