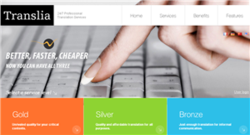 Micro-Translation enables social media monitors to grasp the business leads in Twitter.
New York (PRWEB) April 22, 2011
Translia, the world's leading provider of online translation services, is now offering the Micro-Translation feature for clients who need to translate short bursts of text. While most companies have a minimum word count for translation jobs, Translia has no minimum. This is seen by many businesses as especially useful for maintaining Twitter and Flutter feeds in many different languages. Twitter with its 140-character maximum and Flutter with a 26-character maximum are often used for both business and informal communication. Additionally, Micro-Translation allows for the easy and professional translation of menu buttons, name cards, tattoos, and quotations.
Translia's Micro-Translation service plays a crucial role in modern-day communication. So much of the relationship between businesses and customers, colleagues and friends happens in short bursts of text. Micro-Translation allows communication channels to be maintained affordably even with short "Tweets." Businesses, for instance, often use Twitter to announce shopping deals. If an online company offers a promotion to a multinational audience, it is important to ensure that every potential customer is able to read the Tweet. For just a few dollars per language, Translia offers businesses the chance to maintain a reach around the world.
Many business owners have stated that Micro-Translation is a breakthrough for modern business communication; however, looking at the company it is clear that it is just another extension of the business' relentless pursuit of the future of document translation services. First it was SafeTrans, a feature that automatically breaks each document into sentences and feeds the sentences one at a time. This prevents sensitive documents from being plagiarized upon translation. Translation Memory allows the same sentence, once translated and in Translia's data banks, to be re-translated again without any additional payments. Additionally, large volume translations can be broken up and assigned instantly to multiple translators, and the new translation is automatically formatted in the same way.
While the majority provider has a minimum order of $50 or more, at Translia the minimum is $1 only. This accounts for a translation of just a few words. According to Translia executives, orders range from one word to millions of words, depending on what clients need. Because the system is all automated, clients' turnaround time can be exceptionally fast. It can even go through within the hour. For just a few dollars in just a few minutes, clients are able to tap into an entirely new language market through Translia.
Translia connects 10,000+ professional translators around the world as freelancers, with talents totaling around ninety-eight languages, covering e.g. French translation, Arabic translation, and Spanish translation services. The language options are even more than Google Translate, an online translation widget supporting 57 languages as of 2011. With three levels of translation depending on how important and accurate a client needs a translation to be, Translia shows a sophisticated understanding of how translation changes depending on the presence of editors and proofreaders.
Micro-Translation is expected to see widespread use by multinational corporations around the world to upgrade their Twitter feeds to connect with native speakers of languages other than English. The service will also be used to translate mobile advertisements, websites and short emails. According to Translia, Micro-Translation is more of a feature than a service, as the same quality of translation is provided no matter how long or short the job is.
# # #