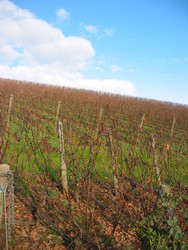 We really wanted to have our inventory of wines carried resemble a good wine list rather than a massive warehouse. We may not have 15,000 wines. However, for those that we do carry, we have tasted and know to be quality producers that we can confidently recommend to our customers
Portland, OR (PRWEB) July 22, 2009
Big and frequently expensive names like Barolo and Bordeaux are sitting on the shelves a little longer than they were a couple of years ago. Consumers are tightening their belts and reevaluating what wines they buy and how they buy them. Recent research is showing a couple of trends in the wine business.
Consumers tend to be buying close to the same amount of wine they did a couple of years ago, but are drinking it at home with dinner, as opposed to buying a bottle at restaurant. Wine drinkers are also lowering their price comfort zone $10 to $20. Someone who used to spend $40 a bottle twice a week now might spend $30 and those that were comfortable with a $30 purchase might be spending $15 to $20.
This sits well with SipTheWine.com. There has been an unexpected, but welcome side effect of the downsizing of wine consumption: exploration. "For years we have been trying to get customers to taste great values from lesser know regions that we were excited about. Frequently though, they were hesitant to try a wine region or varietal they hadn't heard of. Now people are a little more willing to step out of their comfort zone and try something new, like a Monastrell from Jumilla or a blend from Languedoc-Rousilllion, explains owner Vance Bolding.
Because the area is not as famous, the wines are frequently much less expensive, but of equal quality to better known neighbors. This is really where SipTheWine.com sets it's focus, high quality, small production wines from $10 to $30 that really give a sense of where they are from.
There are several avenues for wine exploration. In 52 weeks of wine, SipTheWine.com sends 4 bottles of wine (averaging $15 each) to subscribers every month that compliment seasonal fare and the weather. In addition, they offer a way to learn about new producers, as well as other facets of wine in their "Not a Newsletter". They are also always happy to put together a custom "six pack" for customers. This is where the customer picks the type of wine, price range, put in any requests they may have, then lets SipTheWine.com take care of the rest.
The less is more philosophy is embraced by SipTheWine.com. Regarding wines carried on the web site, Bolding describes the selection process. "We really wanted to have our inventory of wines carried resemble a good wine list rather than a massive warehouse. We may not have 15,000 wines. However, for those that we do carry, we have tasted and know to be quality producers that we can confidently recommend to our customers".
If there is a silver lining to this recession for wine lovers, maybe it will be the discovery of a Nero D'Avola from Sicily or a good second label from Walla Walla. Or maybe it will just be the realization that with an informed recommendation you can get a really good bottle of wine for $20. If SipTheWine.com can help find this lining they are always there to help.
###