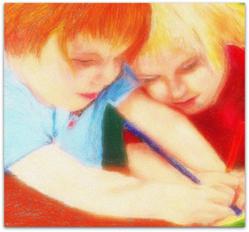 "Art is not a thing; it is a way." - Elbert Hubbard
(PRWEB) December 31, 2012
Beginning Monday, December 31st, ART4GOOD Foundation, Inc. will be hosting an unprecedented online auction featuring thousands works of art, collectibles, jewelry, and travel and unique experiences. Proceeds will benefit "Materials For the Arts/NYC Department of Cultural Affairs," in support of ARTS Education for Children.
Founded in 1978, Materials for the Arts, NYC Department of Cultural Affairs, provides thousands of NYC's arts and cultural organizations, public schools, and community arts programs with the supplies they need to run and expand their programs. MFTA gathers materials from companies and individuals that no longer need them and makes them available, for free, to the artists and educators that do. In the process, hundreds of tons are removed from the waste stream every year and kept out of landfills, which helps sustain the environment, promotes reuse, and reduces waste.
Big Bird may have been the icon, during the recent election, to protest proposed funding cuts in the Arts, but as the National Endowment For The Arts (NEA) has confirmed, most visual artists in the United States live well below the poverty level. Yet, artists from all over the United States and throughout the world have come together to support and help stimulate more funding for arts education in schools.
Funding for arts education has been on the down slide for more than three decades. Many concerned parents and teachers have pulled together to help, but work has only just begun. From an ever growing list of state mandates, every parent has seen classrooms jammed to the brim; overcrowded like never before. A prevailing public mindset that "arts are a beautiful method of expression, but not essential to the mental and physical well being of our children" is unacceptable.
In the words of Poet Laureate, Rose Marie Raccioppi, "ARTS express... Aspiration ~ Revelation ~ Truth ~ Spirit ~ the very breath of purpose ... to cultivate the arts within each child is to cultivate an endearing light ... our children deserve no less."
ART4GOOD Foundation Inc, a California Non-Profit Public Benefit Corporation, has a mission: "To Inspire Change With Every Brush Stroke!" We are lending support to amplify this issue as well as offer a method for everyone who cares about the budding artists of today and tomorrow to participate. Children simply must be encouraged to express themselves creatively. We now live in an era of fear and restrictions. Children of all ages should be enabled to celebrate creativity: their own.
New York is where ART4GOOD will begin, but its commitment of support will continue. ART4GOOD BOOKS will publish multiple collectible art and poetry books throughout 2013, donating proceeds to participating school boards and individual school communities.
In the words of Thomas R. Forstenzer, Former Chief Of Staff at UNESCO, and ART4GOOD Advisory Board member: "Art is as essential to learning as reading, writing, and arithmetic because art is reading, writing and arithmetic. Our children need to invent their own forms of communication with art; which is a language of writing, calculation of space. Moreover, the appreciation of art is essential to understanding our civilization and other civilizations in the globalized world." He quotes the Renowned Italian novelist, Levi: "Where art begins, violence ends."
Participate: Everyone wins when they bid for good with ART4GOOD!
Donate Directly: http://www.crowdrise.com/supporttheartsinours/fundraiser/Art4GoodFoundationInc
Contact ART4GOOD Foundation, Inc.: info(at)art4goodfoundation(dot)com