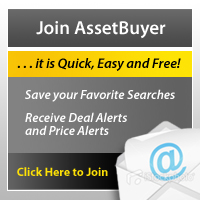 Whether you need heavy equipment like an excavators or a truck, we can instantly show a buyer nearly everything that is available on the market and for sale right now.
Austin, Texas (PRWEB) January 17, 2012
AssetBuyer, the world's fastest growing shopping site for new and used heavy equipment, today announced the next generation of the company's powerful search tool. The tool enables buyers to quickly search, compare, and buy heavy equipment like construction equipment, farm equipment, and industrial equipment, as well as, transportation assets. It is the only place where users can instantly search over a million assets from hundreds of sites.
Enhancements included in this release were all designed to help buyers find the best deal:

Asset Comparison: Users can compare up to 4 assets side-by-side. This makes the comparison process fast and straight forward.
Watch Lists: Members can add an active auction or classified listing to their watch list. This makes it easier to track when events begin and end at a glance.
Saved Searches: Users can create custom search parameters and then save them for their next visit. These custom saved searches make it effortless to search across millions of assets in seconds for hard to find items.
Deal & Auction Alerts: We review the database and alert users to assets currently priced below market value. Users can easily be notified on a new auction opening, ending, and specific item from the event.
"Whether a user needs heavy equipment like an excavators or a truck, our tools can instantly show a buyer nearly everything that is available on the market and for sale right now. Why spend days searching across hundreds of listing and online auction sites when these new tools are fast and free." states Scott Richardson, Co-Founder and Chief Technology Officer for AssetBuyer.com.
A sample of additional features coming soon:

AssetBuyer Mobile App: Compare prices while on the go even while at the dealership or at a live auction event.
Price Comparison tools: Quickly compare an asset's current price against ALL ongoing auctions and classifieds.
Historical sales data: This data tool shows the historical average sales price so users can make more informed buying decisions.
Customizable alerts: Quickly find the best deals by setting alerts for auctions with zero bids, those that are closing soon or newly listed. Also set custom pricing targets.
In addition to helping buyers, AssetBuyer.com also allows sellers, dealers, and auctioneers to gain more exposure. There are numerous ways to promote an auction or event. Items and events can be listed for free or for a nominal fee can be featured above our normal search results.
"Dealerships and auction sites can also advertise on our site and reach over 300,000 buyers directly with an Auction Announcement or Deal Alert. In addition, our Member Services team provides access to our partners for price comparisons, shipping services, financing, insurance, and aftermarket services." states Jerry Peterson, Co-Founder and Chief Commercial Officer for AssetBuyer.com.
To join Asset Buyer for free, visit us at http://www.AssetBuyer.com today.
About AssetBuyer.com
Searching across countless online auctions, listing sites, classified advertisements and publications for used heavy equipment can be tiresome. AssetBuyer makes it simple – one search provides visibility into all available used equipment from thousands of auction and listing sites. It is a "one stop shop" to find price comparisons on heavy equipment.
AssetBuyer.com is the industry innovator in online commercial asset comparison shopping. Customers around the world use AssetBuyer to quickly obtain free and unbiased information about products, services, merchants and sellers before making a purchase decision.
# # #