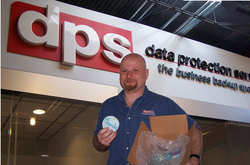 Long-time relationships are built on good service at a fair price, and that's what Data Protection Services delivers.
(PRWEB) September 12, 2007
Stories about horrible tech support experiences litter the Internet, and as more companies replace trained technicians with outsourced call center personnel, the level of dissatisfaction with technical support will only continue to grow.
Data Protection Services (DPS) http://www.dataprotection.com , the leading provider of online backup and recovery services, is the rare company where technical support not only gets raves from its clients, but sometimes cookies in appreciation of good service!
Frank Caronna, DPS Support Technician, recently received a box of cookies from Dana Taylor at the Urban Law Center in California. "We've been a client of Data Protection Services for seven years," said Taylor, "and one of the reasons we've been so satisfied is their commitment to service. Every time we've had to contact them, their patience and technical expertise have impressed us." Recently, Urban Law Center had a number of malfunctions with their computers that required multiple phone calls and phone time with DPS technical support." Taylor added, "Just like always, their support was excellent, efficient, and timely. I never have to wait in long queues, and they always treat me like the most important client they have. I thought Frank's service was deserving of more than just words, so I baked him some cookies." Caronna adds, "It's always nice to get positive feedback from clients about our service, but the cookies were a real treat!"
Jeff Danos, CEO of Data Protection Services, said, "Great service is a trademark of our company. We haven't even considered replacing our expert technicians with outsourced call center responders. Sure, it would be cheaper, but we've made a commitment to provide the level of support and service serious businesses require. In the long run, we think it makes more sense to focus on serving our clients well. We'll never be the cheapest online provider, yet we have priced our service so even the smallest business can afford quality data protection."
Dana Taylor agrees. "Long-time relationships are built on good service at a fair price, and that's what Data Protection Services delivers."
###