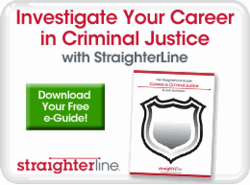 Maybe it's because of the popularity of criminal justice TV shows, books and movies, but more and more colleges and universities are offering criminal justice degrees.
Baltimore, MD (PRWEB) October 22, 2012
StraighterLine (StraighterLine.com) announced today the release of a free new e-Guide, The StraighterLine Guide: Careers in Criminal Justice. The e-Guide provides useful information to the rapidly growing number of people interested in pursuing first or second careers in the increasingly popular field of Criminal Justice.
"There are more Criminal Justice jobs out there than just being a police officer, and graduates with criminal justice degrees are in high demand," says Josef Katz, VP Marketing of StraighterLine. "The U.S. Department of Labor projects job growth rates of 18-21% between now and 2020, for jobs like Probation Officers and Correctional Treatment Specialists, Security Guards and Gaming Surveillance Officers, and Private Investigators and Detectives. This guide is a jumping off point for students who want to explore this fast growing sector of our economy. Maybe it's because of the popularity of criminal justice TV shows, books and movies, but more and more colleges and universities are offering criminal justice degrees. Students should understand how they can start their career with online college courses to greatly reduce their cost of education and minimize the need to load up on student debt. With StraighterLine self-paced courses, they can get their degrees faster and at a lower cost."
This latest release follows previous career oriented e-Guides Start Training Today for a Career in Healthcare, The StraighterLine Guide: Careers in Nursing, as well as e-Guides on How To Go Back To College and Getting into College Made Easy, which were designed to help adult learners and traditional students understand the process of going back to or starting college. Students of all backgrounds can download any of these guides for free and explore all the informational resources available to help them start or complete college with greater convenience, at a lower cost, and with less financial risk and student debt.
New reports on education-related topics are added weekly to the site. For regular updates about new reports, interested students can sign up for the StraighterLine newsletter, which contains links to new articles as they are released.
StraighterLine's extremely flexible and affordable online college courses allow students to save up to 90% on their first year or two of college, helping ease the burden of balancing a busy lifestyle while earning a college degree. Additionally, five StraighterLine courses are approved by the College Board as Advanced Placement courses, and others are excellent alternatives to taking CLEP exams.
Currently, StraighterLine offers forty-two entry-level college courses online including College Algebra, Precalculus, Calculus I and II, Business Writing, Introduction to Biology, Introduction to Biology with lab, General Chemistry I, General Chemistry I with lab, English Comp I and II, Accounting I and II, Managerial Accounting, Macroeconomics, Microeconomics, Business Statistics, Business Ethics, Organizational Behavior, Anatomy & Physiology I & II, each with a lab option, Medical Terminology, Introduction to Psychology, Introduction to Business, Introduction to Criminal Justice, Introduction to Nutrition, Introduction to Sociology, Western Civilization I & II, Personal Finance, United States History I & II, Pharmacology I and II, Student Success, General Physics I, General Physics I with lab and two developmental courses.
About StraighterLine
StraighterLine has been recognized as a revolutionizing force in education by major news organizations and the U.S. Chamber of Commerce for offering students online courses that earn real college credit for just $99 a month. Fast Company named StraighterLine one of the "10 Most Innovative Companies in Education."
In order to facilitate the award of credit, StraighterLine has forged partnerships with leading accredited online colleges and universities. A student ultimately earns a degree from those institutions but realizes tremendous savings and convenience by starting with StraighterLine.
StraighterLine's courses are evaluated and recommended by the American Council on Education's College Credit Recommendation Service (ACE CREDIT). In addition to the institutions with which StraighterLine has a direct relationship, more than 300 other schools are reported to have accepted StraighterLine coursework for transfer credit.
Currently, StraighterLine offers 42 entry-level college courses online in the Sciences, Humanities, English, Math and Business. 5 StraighterLine courses have been approved by The College Board to be listed as AP courses: AP Macroeconomics, AP Microeconomics, AP English Language and Composition, AP Calculus AB and AP Psychology. And dozens of StraighterLine courses cover the same subject areas as CLEP exams, making them acceptable alternatives to or preparations for those tests.
For information, visit StraighterLine.com or call 1-877-str8erline (1-877-787-8375).
###