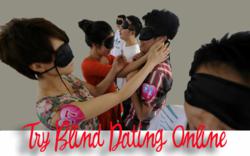 Every relelationship needs Good Commuication to build a strong base. By hiding the profile pictures. Users are now focused on Bonding through Commuication instead of attraction only by appreance.
Toronto, Ontario (PRWEB) February 12, 2013
The Online Dating world has always been overwhelmed by profile pictures. Users skim through photo after photo until they find a profile picture which catches their eyes. This leads to one of the main problems in current online dating. Users are attracted by the profile picture and they do not engage in in-depth conversation. The art of current online dating is to upload the best Photoshop picture with user's chin lowered to give a slimmer face illusion. Even worse at times users upload fake pictures just to attract other users.
A good tip for online daters is not to focus on the face of the profile pictures, but instead look at the background. See where the user likes to go or activities the user enjoys through the background of the photos. However with the face the focal point of most profile pictures, online daters cannot seem to turn their focus on building a good conversation rapport before agreeing to meet up.
The solution is for the current online dating problem is created at BlindDatingOnline.com. Going on a blind date has always been an exciting part of the dating world. Getting set up by your friends and meeting someone in person for the first time always has dater's hearts pumping with excitement and anticipation. The Online Blind Dating platform that http://www.BlindDatingOnline.com has created mimics this experience and allows online daters to build anticipation and excitement while conducting conversation with other users. On this site every users has to pick an avatar as their profile picture. There are tons of avatars to choose from (money sign, to lobster to books etc.) The avatar is a way to showcase the user's personality and interest. On each profile the user will also list 3 of their key interest points which represent them. Once users have found someone they are interested to getting to know better they can message each other on the site for free. The twist to this Blind Date experience is the actual profile picture with the user's face will only be revealed after 30 messages have been exchanged. Thereby if the conversation does not go well or the user is not responsive the online dater will never be able to see what the other user looks like.
From the typical online dating site filled with profile pictures, BlindDatingOnline.com has created the polar opposite, an online dating site filled with mystery and suspense. This has been missing in the online dating world which always leans towards showing it all on the first picture in order to attract the opposite sex. Users can chat for free and is not required to pay a monthly subscription fee to use this site. This site is recommended for those who are a little camera shy, or just does not want to bear it all on the profile picture like a traditional online dating site. For those who have a bit more patient and would like to build rapport before seeing the person's face this site is highly recommended.
The site also has a blog section where users can post their love experience and flirting tips to share with the dating community. It is a great place to go and read about dating tips and love stories.
To find out more about this new Blind Dating site visit:
http://BlindDatingOnline.com
BlindDatingOnline.com is owned by MusicJuice Inc. creator of many social website in niche markets. BlindDatingOnline.com is an alternative Online Dating site. Its goal is to create a Blind Dating experience for its users and help online daters lead to more successful relationships by forcing users to engage in conversation before seeing the user's profile picture. The site hopes to help more people find relationship and open the online dating market to the masses who do not want their profile picture splattered onto the front of the website to attract other people.