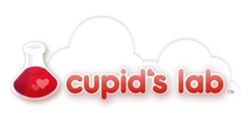 If she returns the crush, you will both receive texts with one of a few different cute messages:
Brooklyn, NY (PRWEB) September 19, 2008
Cupid's Lab, an innovative online dating site, breaks the traditional impersonal matchmaking-via-algorithm method and lets users play Cupid for one another. On Tuesday, September 23, 2008, it will re-launch its website -- http://www.cupidslab.com -- via a live, interactive event, the "Not My Date" Party, at New York City's M1-5 in Tribeca.
Cupid's Lab understands that love requires trust and that, after the first few dates, a friend's seal of approval is important. Now, your best friend can help weed out the "bad boys" she always warns you about and plant the undiscovered gems right from the beginning -- straight into your inbox. You may be single, but you're not alone: you'll be virtually surrounded by the ones you love and the ones you may want to love. Whether cupid's arrow has been missing the mark or has already hit the bulls-eye, Cupid's Lab lets everyone experiment with the science of love.
The "Not My Date" Party will bring this concept to life, allowing attendees to play matchmaker or find love for themselves via mobile text in a fun and relaxed setting. All participants are requested to bring a non-date -- "a member of the opposite sex who you're not involved with -- maybe your best friend from school, or that cute girl from work who's not really your type, or that guy from the bar who'd be perfect for Sharon if she wasn't always such a spaz.''
If you have a crush on the hottie across the room, but she's currently surrounded by a swarm of men, text "crush" and her four-digit code, and she'll receive a message: ''Tee hee ... Someone has a crush on you! Tell us who you have a crush on and if it's mutual we'll tell you who it is." If she returns the crush, you will both receive texts with one of a few different cute messages: "OMG! Guess what?! Angela is totally into you too! Go find them and talk to them NOW!''
To encourage participants to keep texting, prizes will be raffled off throughout the night. The more you "crush" or "match," the better your chances. There will also be a special prize to a newly matched couple at the end of the night.
Tobin Schwaiger-Hastanan, Cupid Lab's Co-Founder, comments: "I'm excited to see how the technology element will play out in an offline setting. Whether guests embrace flirting with other guests and matching their friends via text remains to be seen. As long as they are smiling and having a great time, we've accomplished what we set out to do."
About Cupid's Lab™
Tobin Schwaiger-Hastanan and Jevaun Howell, founders of Cupid's Lab™, are 2 guys from Brooklyn who are in love with love, but also in love with technology. They took all that love and started the site as a way to help their friends matchmake and play Cupid for each other through games and experimentation. Their mission is simple -- create a safe, fun and effective destination for online dating powered by real human interaction and not some boring algorithm.
Visit http://www.cupidslab.com to learn more.
Media Contact: Tobin Schwaiger-Hastanan
press@cupidslab.com
# # #